Sentara Vascular Surgeon Changes Lives for the Better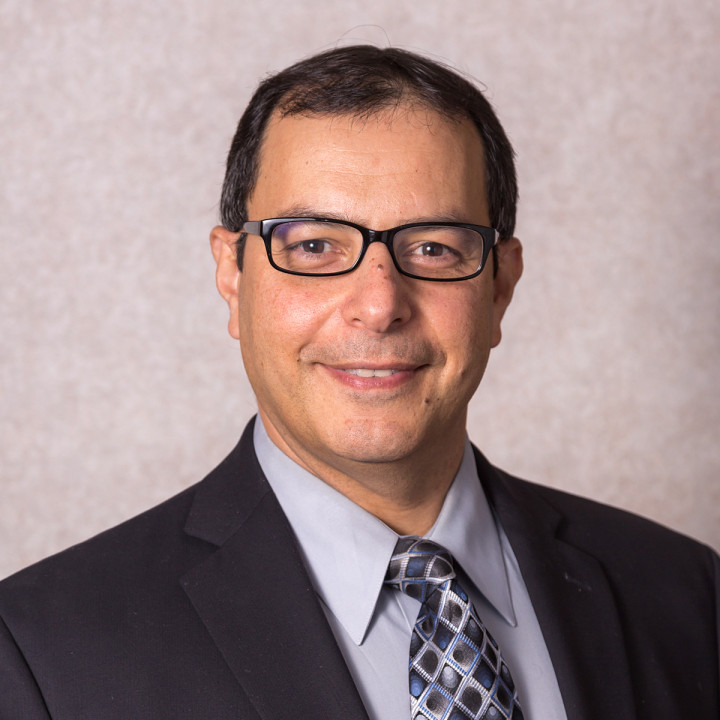 Hosam F. El Sayed
Sentara Vascular Specialists
Vascular Surgery
"I always wanted to be a doctor, ever since I was a child," says Hosam El Sayed, M.B.B.Ch., Ph.D., a vascular surgeon at Sentara Vascular Specialists. "I chose vascular surgery because it's a field where I can save lives and make a big difference in a person's quality of life."
Dr. El Sayed grew up in Egypt. When he was a child, his grandmother received emergency middle-of-the-night surgery to repair a hernia that was cutting off blood supply to part of the intestine. "Her life was saved, and our family talked about the surgeon as a hero," he says. "I had already planned to become a doctor, but from that point on, I felt I had to be a surgeon."
He went to medical school at the University of Cairo, one of the oldest medical schools in the world. He began his career as a plastic surgeon. After several years practicing plastic surgery and teaching medicine at the University of Cairo, he came to the United States to further his training. Soon after, he decided to pursue vascular surgery. "I went to medical school to save lives," he says. "Vascular surgery allows me to do that every day."
Planned and Emergency Vascular Surgery
Dr. El Sayed performs a wide range of vascular procedures, including planned surgeries and emergency treatments. His special interests include:
Dialysis access
Patients with kidney disease receive hemodialysis (also called dialysis) to filter their blood. Dr. El Sayed performs dialysis access surgeries for patients who need dialysis. The surgery involves placing a device under the skin of the arm, leg or chest. During dialysis, doctors can easily access the bloodstream through this device. "This is a relatively simple surgery, but it makes a huge difference in the patient's quality of life," he says.
Aorta problems
The aorta is the main artery that carries blood from the heart. Dr. El Sayed performs surgeries to repair damaged aortas. "Repairing the aorta involves high-stakes surgeries that require skill and expertise," he says.
These procedures include emergency surgery to repair life-threatening damage and scheduled surgeries to treat aortic diseases.
He treats problems including:
Aortic dissection: A tear in the inner wall of the aorta
Aortic rupture: A complete tear through all three layers of the aorta
Penetrating aortic ulcers: Holes that form in the aorta from plaque wearing away at the artery wall
Chronic aortic disease: Problems with the aorta that develop over time and require repair to prevent ruptures
Talent and Technology at Sentara Vascular Specialists
Dr. El Sayed received fellowship training in vascular surgery at Sentara, then worked in Texas and Ohio for many years. He returned to Sentara because of its state-of-the-art technology and the expertise of its vascular surgery team.
"Sentara offers cutting-edge technology and the most sophisticated venues to do vascular surgery," he says. "And there are wonderful people here, with great experience and a real sense of teamwork."
He says his experiences working as a surgeon in Egypt and the United States bring a unique perspective to his job. "I'm a product of the Old World and the New World. I came from an ancient culture to a more modern one," he says. "I believe my background gives me a broader view."
No matter where he's practicing, he's always motivated by helping his patients live healthier, more satisfying lives. "Nothing makes me happier than seeing a patient walk out of the hospital after I've helped them," he says. "Knowing I'm part of the reason that they are still here and feeling better is the most gratifying thing."
Background
Dr. El Sayed received his medical degree at the University of Cairo. He completed medical residencies in Cairo and at The Ohio State University, then fellowship training in vascular surgery at Eastern Virginia Medical School.
Dr. El Sayed is board-certified in Vascular Surgery by the American Board of Surgery. He is a member of numerous professional organizations, including the Society of Vascular Surgery, the Vascular and Endovascular Surgery Society and the Society of Clinical Vascular Surgery. He is also a fellow of the American College of Surgeons.
Dr. El Sayed and his wife have two adult children. When he's not working, he enjoys going to the gym, swimming and spending time near the ocean. He also enjoys traveling, and he and his wife often visit Europe and Egypt.
Dr. El Sayed practices at Sentara Vascular Specialists in Norfolk, a department of Sentara Norfolk General Hospital. Call 757-395-1600 to make an appointment.
---