Pediatrician Promotes Listening as Key to Healthy Children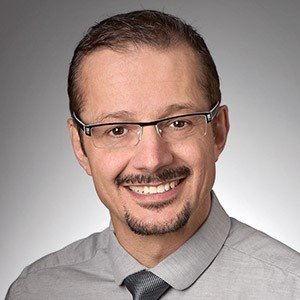 John M. DiMichele, M.D.
Sentara Pediatric Physicians, Division of Albemarle Physician Services - Sentara, Inc.
Pediatrics
"Families should feel comfortable asking me questions about their children's health," says John M. DiMichele, M.D. "They should even be comfortable questioning my proposed treatment plan. Reasonable skepticism is not only OK, it helps us develop a stronger relationship." Dr. DiMichele recently joined Sentara Pediatric Physicians, a division of Albemarle Physician Services – Sentara, Inc. He brings to the region a passion for caring for children and over two decades of clinical experience.
"Growing up, I had this altruistic idea that I wanted to help people. My worldview was that I was meant to do something meaningful. Medicine is an ideal service profession," says Dr. DiMichele. "During residency, I realized that I enjoyed the variety that general pediatrics offered. And there is nothing more rewarding than a hug from a patient!"
Dr. DiMichele offers immunizations, annual physical exams, and illness and injury care at the practice in Elizabeth City and in Moyock, North Carolina, two half days each week.
"We're making it more convenient for patients to receive care closer to their homes," says Dr. DiMichele.
Focuses on Good Nutrition as Path to Future Health
"As a pediatrician, my job is to ensure children have every opportunity to be healthy and happy," says Dr. DiMichele. "Increasingly, we're finding that children's food habits may need tweaking.
"I help families and children develop a healthy relationship with food that will last them a lifetime."
Childhood obesity is fast becoming a national epidemic. Dr. DiMichele cautions that it has the potential to create many problems down the road. In fact, studies show that the habits developed in childhood are strongly linked to adult health.
"We're looking to help younger children develop good habits that can help them for a lifetime. We talk about healthy lifestyles and habits, as opposed to focusing on weight or body mass index (BMI)," says Dr. DiMichele. "Parents are all different in how they address this issue. My job is to help parents find the approach that works best for their child.
"When it comes to limiting certain foods or eating habits, I don't like the word 'no.' Instead, I promote offering choices. We need to give our children guidelines so that they can begin to make good decisions."
Pediatric Partners Provide Compassionate Care
Dr. DiMichele joined Sheila Aldrich, M.D., and James Schmitt, D.O., at Sentara Pediatric Physicians. The team covers the newborn nursery at Albemarle Medical Center where they provide a complete examination of every baby born there. They offer pediatric care for patients from birth to age 18 in their Elizabeth City practice.
While all three physicians have their own unique styles, patients can count on quality care regardless of which pediatrician they see.
"We're a great team because we approach things differently," says Dr. DiMichele. "We want families to feel like they have a pediatrician they can call their own and come to trust.
"Families will find that one of us best matches their own temperament. Depending on the parent's (or child's) personality, I know they will find the right pediatrician in our practice."
Drs. DiMichele, Aldrich and Schmitt schedule their day so they have time for well visits, as well as a block of time to take care of more urgent concerns.
"Often, we can see a patient on the same day for illness or injury," says Dr. DiMichele. "As parents ourselves, we understand that there is angst that goes along with having a sick or injured child.
"I encourage parents to pick up the phone and schedule a visit when they are concerned. Much of my job is to reassure that the child is not in any real danger, but also to help them find ways of comforting their child. If there is something treatable, we'll get them back to good health.
"I want patients to feel listened to and heard. If they have their problems addressed in a way they understand, then I've done my job," says Dr. DiMichele. "Sometimes patients come in with a problem that can't be 'fixed,' but as long as parents know that their child is going to be OK, they feel better."
Offers Quality, Comprehensive Services
Providing good care based on listening to the needs and concerns of patients is possible because of Sentara's emphasis on quality.
"I've worked in other healthcare systems and love that Sentara is a quality-based company. They take a lot of pride in trying to be a leader in the area," says Dr. DiMichele. "It is my responsibility to keep myself and my knowledge up to date. But, I like that I'm supported by an organization that invests in modern facilities, technology and systems."
Part of the Sentara promise is access to specialists when necessary.
"There are instances when children need specialty care, and I am very confident in referring patients when I need to," says Dr. DiMichele. "We have a strong relationship with specialists at Children's Hospital of the King's Daughters. When we refer to their specialists, it is pretty seamless for the patient. We make things as convenient as possible."
Traded Skis for Surf and Service
Dr. DiMichele relocated from St. Albans, Vermont, with his wife and three children. They spent many summers vacationing in the Carolinas and knew, eventually, they'd enjoy living closer to the ocean.
"The only downside to relocating south is we won't be able to ski as often, but it was a trade-off we were willing to make," says Dr. DiMichele. "We went skiing to help make the winter go by faster. But with this milder climate, we're enjoying more time outdoors year-round."
Dr. DiMichele has a strong interest in healthcare reform and participates in a group called NC Child. This advocacy organization focuses on reform as it relates to child health and access to quality care.
Soon Dr. DiMichele will begin teaching courses to pre-medicine track students at Mid-Atlantic Christian University. He hopes he will inspire students to choose medicine when answering their own call to serve.
Background
Dr. DiMichele did his medical training at McGill University School of Medicine. He completed his internship and residency at The University of Tennessee Health Science Center, which included a rotation at St. Jude Children's Research Hospital. He provided general pediatric services in St. Albans, Vermont for 20 years. He is board-certified by the American Board of Pediatrics.
---