Sentara Primary Care Physician Is Your Healthcare Partner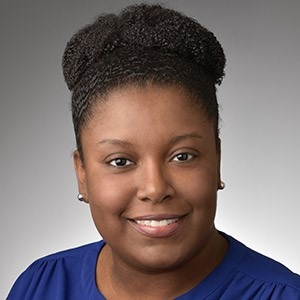 Kelle' D. Bolden, M.D.
Sentara Internal Medicine Physicians
Internal Medicine
"I was in middle school when my father got ill and was in the ICU," says Kellé D. Bolden, M.D. "The doctors took a lot of time caring for my dad. I saw him recover and realized I wanted to dedicate my life to doing the same for others."
Dr. Bolden chose internal medicine because it allows her to build long-term relationships with her patients. Focusing on primary care means she can help patients get in front of problems or avoid them altogether with preventive medicine.
When patients have chronic concerns, Dr. Bolden becomes a partner in their care. Instead of telling them what they need to do, she and the patient, sometimes together with the family, agree to a treatment plan that will bring positive results.
"I had a gentleman come see me who had diabetes, heart disease and high blood pressure," says Dr. Bolden. "We went through his history together and discussed areas where he could make improvements. Later, he commented on how pleased he was that I made eye contact with him and truly listened, rather than talking at him."
A Team Approach Provides Newport News Patients With the Right Health Care
The healthcare partnership extends beyond the doctor-patient relationship. Dr. Bolden says primary care involves putting together the right team to provide care. She collaborates with other specialists and serves as the hub for care delivery. The group of providers may include:
Cardiologists
Endocrinologists
Gastroenterologists
Physical and occupational therapists
Home health providers
Social workers
At Sentara Internal Medicine Physicians, she also collaborates with several physicians and physician assistants. "The team I work with is amazing," says Dr. Bolden. "We help each other out and ensure patients receive the care they need when they need it." Sentara Medical Group emphasizes easy access, which means patients can see Dr. Bolden quickly. Same-day appointments are often available.
Dr. Bolden works hard to build relationships with patients and their loved ones. She knows that she has the tools to help them improve their quality of life. She feels her purpose is to help as many people as she can, so they, in turn, can help others.
Music and Family Help Her Deliver Compassionate Primary Care
Dr. Bolden is close with her extended family, many of whom are in the area. "When we get together, there is always food," says Dr. Bolden. "I reap the benefits because many of my family members like to cook. I prefer baking; it fits my personality because it's more precise."
She likes to unwind and recharge with music: "I was a music minor in college and a band geek. I played French horn and piano. To this day, I tickle the keys regularly because it relieves stress and fills me up. And I know that when I'm at my best, I can deliver the best care to my patients."
Background
Dr. Bolden is board-certified by the American Board of Internal Medicine. She received her medical degree from the University of Virginia. She is accepting new patients at Sentara Internal Medicine Physicians located at 11803 Jefferson Avenue, Suite 140, Newport News, Va.
---