Sentara Family Medicine Doctor Has a Passion for Primary Care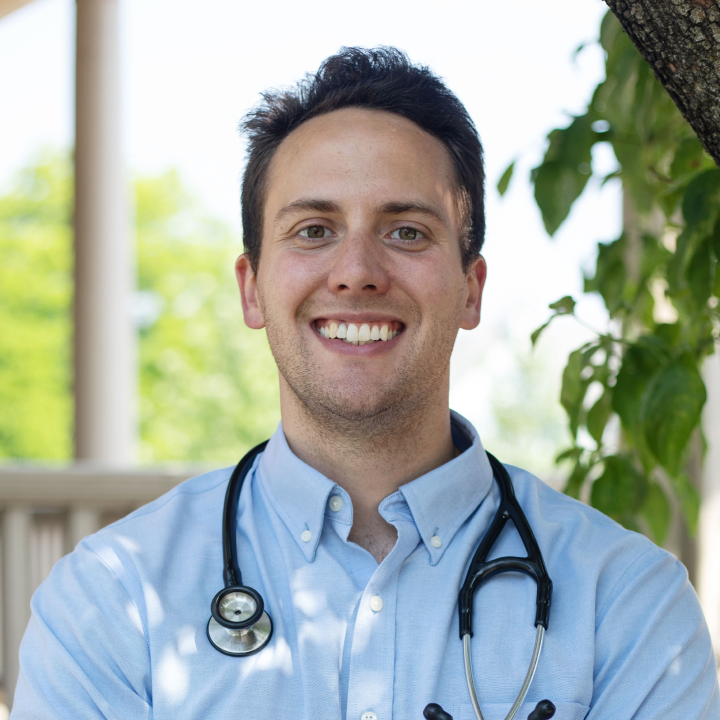 Kevin Volkema, D.O.
Sentara Martha Jefferson Family Medicine
Family Medicine
"I went into medicine because I enjoy people. I knew from the get-go that I wanted to learn about my patients' lives," says Kevin Volkema, D.O., a board-certified family medicine physician at Sentara Martha Jefferson Family Medicine in Charlottesville, Va.
In medical school, he developed a passion for primary care medicine because it offered the opportunity to care for his patients over the long term. "So much energy goes into the first getting-to-know-you visits. Once you get past that, it's so great to see the mutual trust and respect that develops. I love forming those connections with my patients and their families."
Preventive Care for the Whole Person
Dr. Volkema takes a holistic view of medicine. He doesn't just focus on a single medical problem but takes time to understand the patient as a whole person.
He spends a lot of time working with patients to prevent illness. Healthy lifestyle choices can help patients avoid or delay long-term problems such as diabetes and heart disease. "I work with patients on being proactive about prevention, such as focusing on a healthy diet or adding more exercise into their lives," he says.
When it comes to treatment, he takes a less-is-more approach. "My goal is to minimize unnecessary treatments," he says. But when medical treatments are necessary, he relies on the latest science to zero in on the right solution for each patient. "When medicine is needed, I use an evidence-based approach to help patients feel their best."
As a D.O., Dr. Volkema received training in musculoskeletal manipulation in addition to his standard medical training. This additional training offers another set of tools he can use to treat patients with orthopedic injuries and other musculoskeletal problems.
Primary Care for Children and Adults
As a primary care doctor specializing in family medicine, Dr. Volkema treats patients of all ages, from birth through end-of-life care. "I really enjoy the variety of treating patients across the lifespan," he says.
One of the most rewarding parts of his job is helping his patients get through challenging times in their lives, whether those challenges are due to medical diagnoses or other life events. "Everyone has a season when it rains, and it seems like everything is going wrong," he says. "It's gratifying to see my patients weather those challenges in a healthy way, using things like diet, exercise, medication, prayer and other healthy tools to improve their health and their lives."
Dr. Volkema chose to work at Sentara Martha Jefferson Family Medicine partly because of its strong history within the community. "The community here has a lot of pride in the historic hospital, and Sentara has held onto that history while continuing to modernize and advance to serve the needs of our patients," he says.
Background
Dr. Volkema received his medical degree from Midwestern University in Downers Grove, Ill., and completed his medical residency at the McGaw Medical Center of Northwestern University. He is board-certified by the American Board of Family Medicine and is a member of many professional organizations, including the American Academy of Family Physicians and the American Osteopathic Association.
After spending much of his life in the Chicago area, Dr. Volkema relocated to the Southeast with his fiancée, a Virginia native who is also a physician. When he's not seeing patients, he and his fiancée enjoy hiking with their three dogs. He also enjoys cooking, running, reading and brewing his own beer.
Dr. Volkema treats patients of all ages and speaks both English and Spanish. He practices at Sentara Martha Jefferson Family Medicine in Charlottesville, Va. Call 434-654-1950 to make an appointment.
---