Sentara Vascular Surgeon Provides the Right Procedure at the Right Time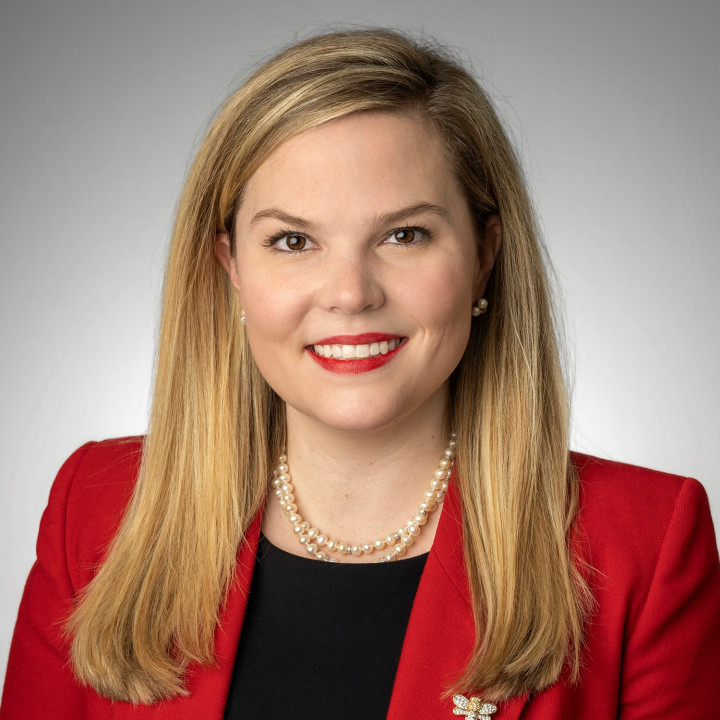 Mary Kathryn Huddleston, M.D.
Sentara Vascular Specialists
Surgery - Vascular
"My parents were both physicians. I can remember playing doctor with my teddy bears using my mother's stethoscope," says vascular surgeon Mary Kathryn Huddleston, M.D. "I've always loved helping people and been intrigued by science. Becoming a physician was something I've wanted since I was a young girl."
Vascular Surgery Care, Tailored to You
Dr. Huddleston joined Sentara Vascular Specialists in Hampton, where she treats circulatory system disorders involving arteries and veins.
Dr. Huddleston offers leading-edge treatment for:
Aneurysm: Pooling of blood when an artery or vessel wall weakens. If untreated, an aneurysm can break open and lead to life-threatening conditions.
Artery disease: Narrowing of blood vessels due to plaque buildup. It causes reduced blood flow to the limbs (peripheral artery disease) or neck (carotid artery disease).
Deep vein thrombosis: Blood clots that form deep in the thigh or lower leg veins. The clots can break off and travel to the lungs, blocking blood flow.
Vein concerns: Large, swollen leg veins (varicose veins) or a web of veins below the skin's surface (spider veins). They are usually only a cosmetic concern.
Venous ulcers: Open wounds caused by poor blood flow. They can be painful and become infected.
Endovascular Procedures Promote Faster Recovery
"My goal is to provide individualized patient care," says Dr. Huddleston. "That means each patient receives the right procedure at the right time." Dr. Huddleston has several techniques in her toolkit to meet each person's unique needs.
In addition to traditional open surgery, she offers endovascular procedures. These minimally invasive procedures use long, flexible tubes (catheters) threaded into arteries and veins through tiny incisions. With X-ray guidance, Dr. Huddleston advances the catheters anywhere in the body to perform procedures with specialized tools.
Endovascular procedures offer the benefits of less-invasive surgery, including:
Tiny incisions for less scarring
Shorter hospital stay
Less pain and faster recovery
Less blood loss and fewer complications
Advanced Endovascular Procedures Performed
"Improving someone's quality of life is the most rewarding part of vascular surgery," says Dr. Huddleston. "It's very satisfying to know that I can make a difference to someone because of the technologically advanced treatments I perform."
She delivers these and many other state-of-the-art procedures to meet the needs of her patients:
Aneurysm repair: Placing a scaffold (stent) in the weakened artery or vein to improve blood flow
Blockage repair: Removing plaque clots that prevent blood flow using balloons, medicines or specialized surgical tools
Lower extremity revascularization: Bypassing blocked leg arteries by rerouting blood flow around the blockage using the patient's vein or an artificial vein (graft)
Transcarotid artery revascularization (TCAR): Stenting the carotid artery to restore blood flow to the brain and lessen stroke risk
Vascular access: Creating a port to directly deliver medications to people receiving kidney dialysis or chemotherapy
Background
Dr. Huddleston enjoys working in the Peninsula and partnering with other physicians committed to treating vascular disease. She spends most of her free time with her family, which includes three daughters. When carving out time for herself, she enjoys audiobooks, swimming and cooking.
She is a member of several societies, including the Society for Vascular Surgery, the Southern Association of Vascular Surgeons and the Society for Clinical Vascular Surgery. She completed her medical training at the University of Alabama at Birmingham. Dr. Huddleston completed residency and fellowship at the University of Tennessee College of Medicine.
She accepts new patients at Sentara Vascular Specialists, located at 3000 Coliseum Drive, Suite 200, Hampton, Va. Make an appointment by calling 757-736-7250.
---