Meet Dr. Wylie Zhu with Sentara Neurosurgery Specialists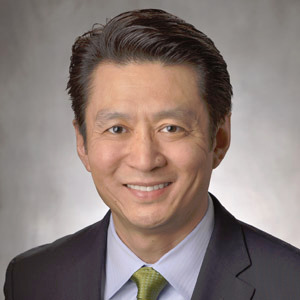 Wylie Zhu, M.D., Ph.D., F.A.A.N.S.
Sentara Neurosurgery Specialists
Surgery
Wylie Zhu, MD, PhD, FAANS joined Sentara in 2014 after practicing in Minnesota for 10 years. Dr. Zhu completed his residency training at SUNY Upstate Medical Center in Syracuse and his medical education at Shanghai Medical University.
"Sentara holds the future for healthcare here in Hampton Roads," says Dr. Zhu "I think the health system has huge promise for the future and want to be the most sophisticated healthcare system in the region. Thanks to the support I have from Sentara and Sentara Medical Group, I was able to be successful in expanding the neurosurgery program."
At Sentara, Dr. Zhu specializes in neuro-oncology, treating brain and spinal cord tumors with the latest minimally invasive techniques like BrainPath®. This 1.5 cm wide device gently displaces the brain during surgery, minimizing damage while allowing Dr. Zhu to reach tumors deep within the brain. These technological advancements, along with his surgical expertise, allows him to preserve brain function, successfully treat tumors and improve patient recovery time.
"I'm fundamentally devoted to my patient's wellbeing," says Dr. Zhu. "My goal is to bring health to my patients with the least amount of invasiveness possible. I will constantly work to find better and newer ways to treat brain tumors."
Dr. Zhu was also the first in Hampton Roads to use laser interstitial thermal therapy (LITT) to treat brain tumors and lesions that are difficult to treat with traditional neurosurgery. The procedure uses tiny incisions to and a laser catheter to heat up and destroy tumor cells. As the only facility with intraoperative MRI for guidance, Sentara can offer this advanced procedure and more treatment options to patients.
"We are at the forefront of technology," says Dr. Zhu. "The hospital has adopted a number of new technological advances that allows us to offer innovative care."
The intraoperative imaging also allows for intraoperative functional brain mapping, another innovation Dr. Zhu helped bring to Sentara. Functional brain mapping and awake craniotomies allow him and his partners to determine which areas of the brain are linked to important functions, such as speaking. With these areas mapped, they can carefully remove tumors or lesions without damaging brain function.
In his time at Sentara, Dr. Zhu has also led multiple clinical research trials into new treatments for brain tumors, including transcranial electrical stimulation in metastatic cancers and gene therapy. As the practice continues to grow in the future, Dr. Zhu hopes to establish more clinical research so patients in Hampton Roads have access to cutting edge care.
---