Becky Sawyer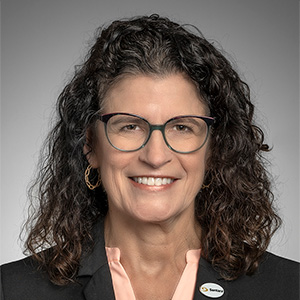 Executive Vice President and Chief People Officer
Becky Sawyer is Executive Vice President and Chief People Officer for Sentara Healthcare, a fully integrated healthcare system with multi-state operations in Virginia, North Carolina, and Florida. She is responsible for HR Strategy and Execution for the second-largest private employer in the Commonwealth of Virginia, employing over 30,000 colleagues.
Ms. Sawyer is dedicated to fostering a culture that attracts, retains and engages a diverse, talented workforce committed to our mission to improve health every day.
Multiple system awards have recognized her vision for an engaged team of system contributors working towards a common mission.
Sentara Health was named to the Forbes 2018 America's Best Employers list (5,000+ employees), Forbes 2020 America's Best Employers for Women, Forbes 2022 America's Best Employers for New Grads, Forbes 2022 Best Employers for Veterans and 2022 America's Best Employers in Virginia. In addition, Sentara was nationally recognized for quality and safety as a Top 15 Health System in 2018 and 2021 by IBM Watson Health in the large system category.
Becky has been a resident of Virginia Beach for 35 years, and her husband Greg was raised in Virginia Beach. They are committed to giving back to the City of Virginia Beach and the Commonwealth of Virginia. They have two children and three grandchildren with whom they enjoy spending family time.
Current Professional Affiliations
Virginia Ready Board of Directors
Virginia Board of Workforce Development Board of Directors
Virginia Business Higher Education Council Board of Directors
Norfolk State University School of Business Board of Directors
An Achievable Dream Board of Directors
Neptune Festival Board of Directors
Society for Human Resources Management (member)
American Society for Healthcare Human Resources Administration (member)
American College of Healthcare Executives (ACHE)
Education
Troy University - BS in Business Administration
Arkansas State University - Master of Public Administration (MPA)
---