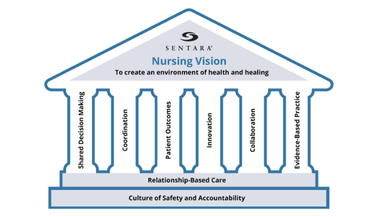 Making a difference takes caring, commitment, lifelong learning, teamwork, and collaboration. This endeavor connects all Sentara nurses serving in different roles and locations. Our work is based on a model of nurses sharing in decisions and actions that create an environment of health and healing. This results in our nursing mission, vision, values, philosophy, and shared decision-making process that make-up the key components of our Professional Practice Model shown above.
Shared Governance
Throughout Sentara, every nurse is a leader in their practice, and we provide the tools and structure that you need for your voice to be heard. Our shared decision-making structures enable direct care nurses to share in decisions and actions regarding patient care, clinical practice standards, quality improvement, staff and professional development, and nursing research.
Relationship Based Care
The theoretical framework for Sentara Nursing is Relationship Based Care, focusing on a caregivers' relationship with self and other team members in addition to the caring relationship with patients and families.

The Parthenon, used in our Professional Practice Model, illustrates our commitment to create an environment of health and healing underpinned by a culture of safety and accountability within relationship-based care. The Pillars represent each nursing scope of practice. The roof reflects our overall nursing vision, to create an environment of health and healing.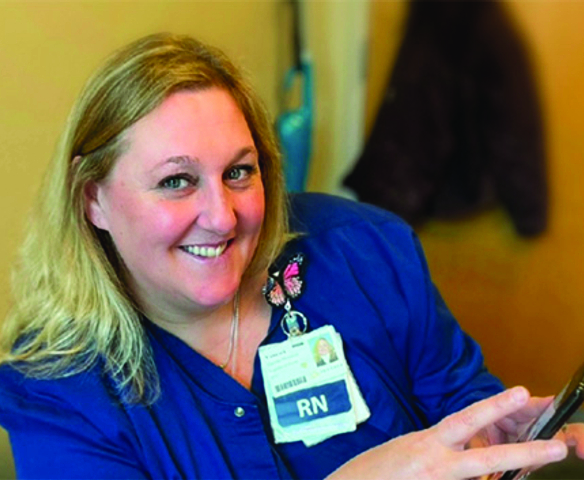 Our nurses, like Vanessa Leigh McMakin, MSN, RN, CCRN, help to make the nursing experience here at Sentara exceptional. Learn more about Vanessa's story at SentaraPeople.
Apply and grow your nursing career here at Sentara.
Hiring nurses for all specialities.

APPLY NOW