DaVinci robotic technology improving patient care at 9 Sentara hospitals
State-of-the-art technology means smaller incisions, less pain, quicker recovery for patients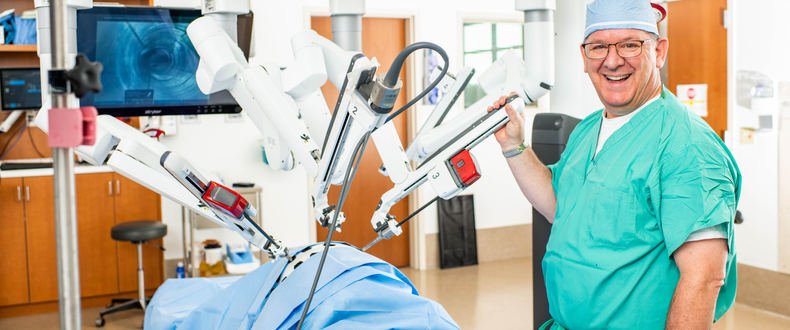 Sentara Williamsburg Regional Medical Center
in Williamsburg, Va., and
Sentara Obici Hospital
in Suffolk, Va., are the latest Sentara hospitals to adopt the daVinci robotic surgical system from Intuitive Surgical. The daVinci system has a 20-year history of safety and technical refinement to provide a more comfortable patient experience than traditional 'open' surgery methods.
Depending on the hospital and the medical specialties of surgeons trained on the device, daVinci is being used for prostate and colon surgeries, gynecologic procedures, including hysterectomy, weight loss surgery, gall bladder removal, hernia repairs, appendectomies and partial nephrectomies to remove malfunctioning kidneys.
Unlike traditional large 'open' incisions, daVinci uses a series of inch-long incisions to insert a lighted high-definition camera into the body and precision instruments capable of more intricate work than a surgeon's fingers. The surgeon sits at a console across from the patient and manipulates the instruments while viewing crystal clear video of the procedure. Safety is paramount. If the surgeon sits back from the console, the device freezes until prompted by the surgeon to continue. There is no artificial intelligence involved.
Patient benefits include quicker healing and recovery with less pain, shorter hospital stays, reduced risk of post-surgical infection and a more rapid return to normal activity.
"daVinci is a game changer for appropriate patients," says
Terryl Times, MD
, a general surgeon with Sentara Surgical Specialists at Sentara Williamsburg Regional Medical Center. "I'm happy that Sentara is offering this state-of-the-art technology in the historic triangle area."
Sentara invested approximately $2.5M per unit installing the daVinci system at nine hospitals in Virginia. They include Sentara Norfolk General Hospital in Norfolk, Va., Sentara Leigh Hospital in Norfolk Va., Sentara Virginia Beach General Hospital in Virginia Beach, Va., Sentara CarePlex in Hampton, Va., Sentara Northern Virginia Medical Center in Woodbridge, Va., Sentara Martha Jefferson Hospital in Charlottesville, Va., Sentara RMH Medical Center in Harrisonburg, Va., Sentara Obici Hospital in Suffolk, Va., and Sentara Williamsburg Regional Medical Center in Williamsburg, Va.
"This is a proven device," says
Gregory Adams, MD
, medical director for bariatric (weight loss) surgery at Sentara Obici Hospital. "It's been through a lot of iterations. The software, the mechanical programming, the redundancy, and it's built to keep the surgeon in control. I think they've got it exactly right."
By: Dale Gauding
---