Sentara Healthcare to Distribute 100 Defibrillators to Community Partners
Life saving devices to be placed with diverse faith communities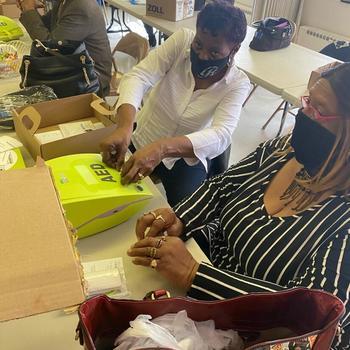 "This is a life-saving gift to the community by Sentara," says Rev. Keith Jones, pastor of Shiloh Baptist Church in Norfolk, which received an AED in an earlier distribution. Jones then used his church's space (photo) to train nine other church groups in using the devices. "While we work to save souls, we can also save lives."
Sentara invested almost $150,000 from the Sentara Foundation's Heart Fund for the Zoll AED Plus devices. The Heart Fund is supported by grateful patients and donors who want to improve survival and cardiac care in Hampton Roads. Directions on the AED devices are straightforward. However, training makes potential users more confident in their ability.
"This gift is in line with the Sentara mission to improve health every day," says Iris Lundy, senior director for health equity for Sentara Health. "We're taking our mission outside of our hospitals and these AEDs will empower faith communities to respond if someone suffers a cardiac event."
The Sentara Foundation exists as an outlet for our grateful patients who want to make a charitable contribution to support our mission. Contributions to the Sentara Heart Fund support research and access to care in Hampton Roads.
"The AED purchase provides lifesaving resources and technology," says Sherry Norquist, MSN, RN executive director of the Sentara Community Engagement and Impact (CEI) team. "Donors can be confident that their gifts reach people where they live, work, play, and pray."
The AED devices will take several months to be delivered and deployed due to the large order. Sentara Health hopes to complete the distribution and training by this fall.
---