Sentara Martha Jefferson Hospitals Community Health Improvement Plan in Action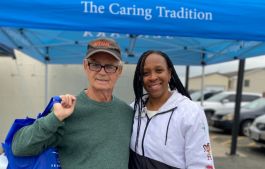 In celebration of Community Health Improvement Week, Sentara Martha Jefferson Hospital (SMJH) is proud to announce a diverse range of programming aimed at promoting healthy living and well-being for the residents of Charlottesville and the surrounding counties. These initiatives align with the recently released MAPP2Health Report and SMJH's Community Health Needs Assessment (CHNA), both identifying the most pressing health challenges our community faces and strategies to address these gaps.
The MAPP2Health Report is a comprehensive analysis of our community's health needs and priorities led by collaboration with Blue Ridge Health District, UVA Health, and Sentara Martha Jefferson Hospital. It serves as a roadmap for SMJH's CHNA and Community Benefit programming, guiding much of the team's efforts to address the identified health gaps and enhance the overall health and vitality of the region.
"By aligning our programming with the Community Health Needs Assessment findings, we can effectively address the pressing health needs of our community," said Tameka Irving, community benefit manager. "We are committed to collaborating with community organizations, leveraging resources, and implementing evidence-based solutions that impact the health and well-being of Charlottesville and the surrounding counties."
Based on the CHNA findings, SMJH has implemented free targeted programs and initiatives that directly address the following community health needs:
Improve Health Disparities and Access to Care: The CHNA highlighted the need for enhanced resources and support for managing chronic diseases such as diabetes, cardiovascular conditions, and respiratory illnesses. In response, the Community Benefit team organizes educational workshops and wellness programs to empower individuals to better manage their chronic conditions and improve their overall quality of life. To improve access to affordable healthcare services, the Sentara Martha Jefferson Hospital's Community Benefit team collaborates with community partners to increase access to primary care and provides free breast cancer and rectal cancer screenings.
Address Mental Health and Substance Use: Mental health and substance use disorders were identified as significant concerns within our community. Opioid deaths continue to skyrocket in our community, and increasing numbers of Virginia high school students report feelings of sadness and hopelessness. To address these issues, Sentara Martha Jefferson Hospital participates as an active member of the Central Virginia Mental Health Coalition, and through the Sentara Healthier Community Grant Fund, the hospital provides financial support for mental health-focused community partners such as The Women's Initiative, Ready Kids, and On Our Own to ensure that everyone in our community has access to mental health resources regardless of insurance or ability to pay.
Foster a Healthier and Connected Community: Sentara Martha Jefferson Hospital recognizes that one of the greatest social determinants of health is one's economic status and education, which is why the Community Benefit team provides free summer camps for kids, junior volunteer experiences for teens, and free training programs for community members interested in healthcare career opportunities.
Promote Healthy Eating and Active Living: The CHNA emphasizes the importance of nutrition, diet and exercise to one's overall health and well-being. To address food insecurity and ensure access to healthy foods, the Community Benefit team organizes no-cost farm stands in collaboration with the Local Food Hub. The team also organizes and funds free fitness classes, health screenings, wellness fairs, and educational programs that focus on nutrition, physical activity, preventive measures, and disease prevention strategies.
"The impactful programming through Community Benefit, aimed at promoting healthy living and well-being in our community, is made possible through a combination of financial support from the hospital and the community's support of the Martha Jefferson Hospital Foundation," says Kimberly Skelly, executive director of the Martha Jefferson Hospital Foundation. "We are immensely grateful for the support we receive, as it enables us to address these critical health needs and make a positive difference in the lives of individuals and families in our community. Together, we are creating a healthier and stronger community."
Sentara Martha Jefferson Hospital is dedicated to working collaboratively with community stakeholders, local organizations, and healthcare providers to create lasting positive change. By addressing the identified needs and leveraging the CHNA as a roadmap, the hospital aims to build a healthier future for this community.
By: Alyssa Pacheco
---