Sentara Northern Virginia Medical Center and Potomac Urology reach Aquablation therapy milestone for prostate care
Sentara, partner physician, achieve 750+ treatments using Aquablation therapy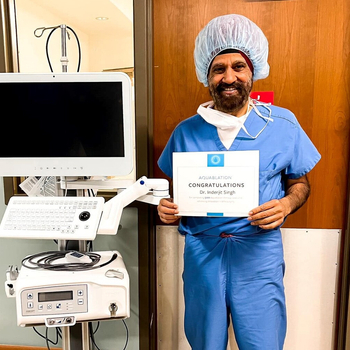 WOODBRIDGE, Va. (June 22, 2023) - Sentara Northern Virginia Medical Center (SNVMC) and Potomac Urology are celebrating the 750th case using Aquablation therapy for the treatment of enlarged or swollen prostate in men. This milestone places SNVMC among a handful of hospitals in the U.S. to treat 750 patients or more using this innovative therapy.
Difficulty urinating, frequent urination and incontinence can all be due to a non-cancerous condition known as benign prostatic hyperplasia (BPH), which affects up to half of men aged 51 to 60. With BPH, the prostate has grown to be larger than normal and puts pressure on the bladder and urethra, which can affect urination. If left untreated, BPH can cause irreversible bladder or kidney damage and permanent incontinence.1
Standard-of-care surgical treatments for BPH often result in permanent incontinence and erectile dysfunction. Aquablation therapy combines real-time imaging, automated robotics, and a heat-free waterjet for immediate removal of enlarged prostate tissue while sparing the structures needed for urinary continence and sexual performance.
Martin Robinson was one of the first patients to choose Aquablation therapy when it was offered at SNVMC in 2018. Robinson had an enlarged prostate and tried other therapies with little to no success. Inderjit Singh, M.D. of Potomac Urology suggested Aquablation therapy days before Robinson's 60th birthday. It was successful.
"I felt like a kid again because when I peed, I could actually feel my bladder emptying," explained Robinson who adds that the procedure hasn't affected his romantic life with his wife. "You either get this done or you lose your prostate and everything that goes with it. You got to take care of yourself."
Dr. Singh has performed more than 500 of the hospital's 750 procedures. He says Aquablation therapy is a game changer for doctors and patients. "For years, we have been looking for a replacement for surgical resection of the prostate also known as TURP which has been the gold standard," Singh says. "The results with Aquablation outperform surgery in terms of efficacy and side effects."
About Aquablation Therapy
Aquablation therapy is the first and only image-guided, automated, heat-free robotic therapy for the treatment of BPH. The system's real-time ultrasound imaging provides the surgeon with a multi-dimensional view of the prostate enabling personalized treatment planning tailored to each patient's unique anatomy. The surgeon can specify which areas of the prostate to remove while preserving the anatomy that controls erectile function, ejaculatory function and continence. Once the treatment plan is mapped, the automated robot removes prostate tissue in a precise, targeted, and controlled fashion using novel, heat-free waterjet technology.
This novel technology is backed by numerous peer-reviewed publications demonstrating its safety, efficacy, and the durability of its outcomes. The cornerstone of the data is two, prospective, FDA trials with 5-year data; WATER and WATER II. The WATER study (the U.S. pivotal trial for FDA approval) randomized Aquablation against TURP, which has been the standard of care for resection of prostates smaller than 80mL, in a double-blinded study. The trial demonstrated superior safety and comparable efficacy to TURP in prostates 30ml to 80ml in size and superior safety and efficacy in prostates 50mL to 80mL in size. The WATER II study included men with a prostate size greater than 80ml undergoing Aquablation. The study met its pre-specified performance goal for safety and efficacy. The two, FDA trials with 5-year follow-up have demonstrated consistent results across various prostate anatomy.
For more information on Aquablation therapy, visit aquablation.com.
For more information on Urology services available at Sentara, call ((703-523-1934)) or contact Potomac Urology Woodbridge clinic at ((703-680-2111)).
---