Camp Lighthouse returns to Hampton Roads in March
A Beacon of Hope for families in grief scheduled March 4 in Williamsburg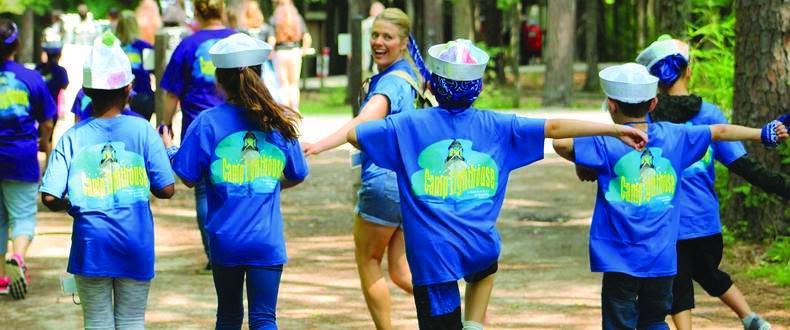 Camp Lighthouse returns to Hampton Roads and the Peninsula on Saturday and Sunday, March 4th and 5th at the Jamestown 4-H Educational Center. Sentara Hospice started Camp Lighthouse in 2006. The camp was suspended during the pandemic but returns to Hampton Roads this spring for in-person attendance.

When it comes to the loss of a loved one, children and teens grieve differently than adults. Camp Lighthouse is a safe place where trained professionals help children express their grief with others in their age group living the same experience.

Campers experience team-building games, crafts, archery, a parade and other activities, plus small group sessions in which they can share their feelings of grief in a safe environment. Parents, grandparents, and guardians attend a separate group and learn to cope with their own loss while learning to help their children. The camp concludes with a memorial service.

Media: Please let us know if you plan to cover this event at news@sentara.com.

Privacy Limitations:
Children should be photographed discreetly from behind, as in the photo included.
Staff, volunteers and activities may be photographed freely.
Interviews are limited to staff and volunteers.
Event details for news media:
Dates: Saturday March 4th and Sunday March 5th 2023

Location: Jamestown 4-H Educational Center

Address: 3751 4-H Club Road, Williamsburg, VA 23185

Hours: 9:00AM to 4:00PM each day.
Camp Lighthouse is open to all children and families who lost someone in the last two years. The only cost is a $20 registration fee, which is waived for financial need. Camp Lighthouse received a Health Care Heroes award from Inside Business in 2019 in the Community Service category. The 2023 Fall session is scheduled October 14 & 15 at Triple R Ranch in Chesapeake.
To register, volunteer, or donate a scholarship, email camplighthouse@sentara.com, visit www.sentara.com/camplighthouse, or call 757-736-0709.

History: Camp Lighthouse is named for a lighthouse-themed quilt a hospice patient was sewing for her daughter. She died before it was finished. Sentara hospice staff and volunteers finished it for her. When the idea for a first-in-Virginia children's grief camp was under discussion, the name choice was quick and unanimous.
By: Dale Gauding
---