daVinci Robotic Surgery system in operation at Sentara Williamsburg Regional Medical Center
System offers patients smaller incisions, less pain, quicker recovery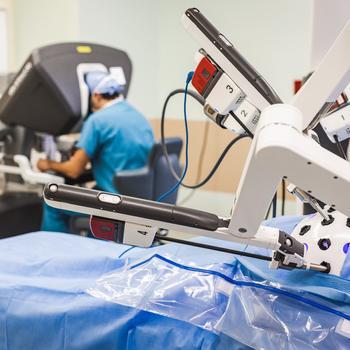 Sentara Williamsburg Regional Medical Center is home to the first daVinci robotic surgical system in the Historic Triangle area. Three surgeons on the hospital's medical staff are currently performing procedures or training on the system with more coming on board. daVinci is being used initially for urological and general surgery applications.
The daVinci system is known for using inch-long incisions to insert a lighted camera into the body and precision instruments capable of more intricate work than a surgeon's fingers. The surgeon sits at a console across the OR from the patient and manipulates the instruments while viewing crystal clear video of the procedure.
Patient benefits include quicker healing and recovery with less pain, shorter hospital stays and a more rapid return to normal activity than with traditional surgical methods.
"I'm excited that we are able to bring this surgical technology to Williamsburg," says Terryl Times, MD, a general surgeon with Sentara Surgical Specialists. "daVinci is a game changer for appropriate patients and I'm happy we are the first in the region to offer these procedures."
Dr. Times is one of three physicians on the daVinci surgery schedule. The others include general surgeon James Daniels, MD, who chairs the hospital's robotics committee, and urologist Joseph Habibi. Drs. Times and Daniels will use daVinci initially for gall bladder surgeries, hernia repairs and colon resections. Dr. Habibi will perform prostate cancer operations, known as prostatectomies, and partial nephrectomies to remove malfunctioning kidneys, often due to cancer.
Sentara invested $2.5M installing the daVinci system at the Williamsburg hospital to provide state-of-the-art robotic procedures closer to home for patients who used to have to drive to Newport News or Richmond.
By: Dale Gaudling
---