Sentara cardiologists investigate if wireless technology can improve treatment for heart failure patients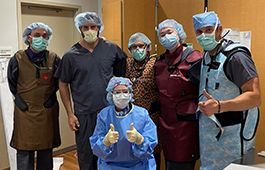 Wireless technology is part of our daily lives, from televisions to cell phones to home security. So, why not use it to keep our hearts pumping strong?
Sentara Cardiologists Dr. Allen Ciuffo and Dr. John Herre are leading a clinical trial at Sentara Norfolk General Hospital looking into that very question.
Sentara is participating in the SOLVE-CRT clinical trial that uses an investigational wireless treatment device for heart failure patients who are at high risk and ineligible for traditional cardiac resynchronization therapy (CRT) or patients who have had previously failed CRT treatment. We have successfully enrolled and completed this procedure for two patients so far.
How does the investigational wireless treatment device work? Called the WiSE CRT System, it uses a proprietary wireless technology to deliver pumping synchronization directly to the left ventricle of the heart, allowing for more customization of the heart pacing and leading to better therapy for heart failure patients. Many heart failure patients rely on a pacemaker to synchronize the pumping of the heart. The WiSE CRT System works with their already implanted defibrillator or pacemaker.
We are looking forward to seeing how this new technology can potentially help the quality of life for heart failure patients in our communities. Click here to learn more about this clinical trial and the great work being done by the Sentara Health Research Center.
By: Kelly Kennedy
---