Sentara creates public COVID-19 hospitalized patient dashboard
New tool tracks Sentara's COVID-19 inpatient census and trends; updated daily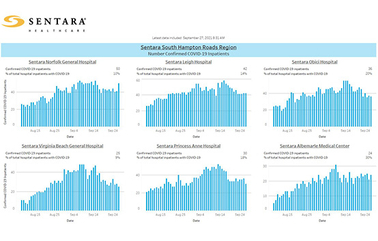 Sentara has launched a new public dashboard that tracks the number of confirmed COVID-19 patients by hospital location. This tool is to help the public understand trends of COVID-19 hospitalizations in your community. The data is updated daily, Monday – Friday. Data from these dashboards can help showcase current hospitalization trends among COVID-19 patients, and the percent of COVID-19 patients out of the total number of hospitalized inpatients.
We also encourage patients to seek care at the appropriate medical facility to help avoid long wait times at the Emergency Department. If you need a COVID-19 test and are not experiencing severe symptoms, please do not go to the Emergency Department for a test. More information on where to safely seek care can be found here.
We continue to see high numbers of hospitalized COVID-19 patients across Sentara Healthcare. The large majority of those hospitalized with COVID-19 are unvaccinated or partially vaccinated. This trend is occurring across the nation. The increase in hospital capacities – which are compounded by COVID-19 but not due solely to COVID-19 – and nation-wide staffing challenges are leading to longer wait times for all patients, especially in Emergency Departments, and increased workloads for healthcare heroes who have endured the brunt and burden of this pandemic over the last 18 months.
By: Kelly Kennedy
---