Sentara Healthcare focuses on reducing health disparities in prostate cancer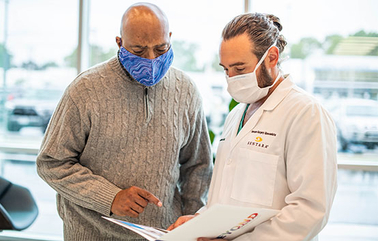 Cancer can affect all ages, races, and communities in devastating ways. Unfortunately, data shows certain groups may be at greater risk for some cancer types based on race, gender, and access to healthcare.
In recognition of Prostate Cancer Awareness Month, we would like to highlight the health disparities present in prostate cancer patients and the work the Sentara Cancer Network is doing in collaboration with Sentara Health Equity Program to combat the disparities within our communities.
To understand why it is so critical to focus on reducing prostate cancer health disparities in our communities, here are a few important data points:
Prostate cancer is a leading cause of cancer death among men in the United States.
One in seven men will be diagnosed with prostate cancer in their lifetimes.
Several localities in Hampton Roads have higher rates of prostate cancer and higher age-adjusted mortality rates than the rest of the country.
There are higher rates of prostate cancer in Hampton Roads than colorectal cancer.
Black men are twice as likely to be diagnosed with prostate cancer as white men, and two to three times more likely to die from the disease.
Early detection is key. Five-year survival percentage is 90 percent or higher for stage 1-3 patients and 30 percent for stage 4 patients.
Establishing Partnerships to Expand our Reach
The fact that some of our communities are being affected by higher rates of certain cancers compared to the national average is one of the reasons why the Sentara Health Equity team was formed. Established in 2019, the Health Equity team analyzes economic status, access to health care, transportation, and other social determinants of health to identify potential causes of health inequity in our community. They then form partnerships with community physicians, organizations, and all Sentara facilities to achieve more equitable health care.
Collaboration is key and that's why the Sentara Cancer Network has partnered with community groups such as the Hampton Roads Prostate Men's Health Forum, 100 Black Men Virginia Peninsula Chapter, Urology of Virginia, and Mount Carmel Baptist Church to focus on education and accessibility to available resources. These partnerships have helped Sentara reach community members most affected by prostate cancer and identify more ways to provide prevention, early detection education, and screening. As noted in the data above, early detection is the best way to improve patient survival.
Education and Support is Ongoing
In 2019, Sentara attended several health fairs, wellness and prevention events, and other community opportunities to reach those most affected by prostate cancer. In 2020, along with several smaller community events, they stepped up their efforts even more by planning several large-scale screening events to take place over these past few months. Unfortunately, due to COVID-19, these larger events were postponed until it is safe to host large gatherings. Still, amidst these challenges, their outreach is still ongoing using smaller events and virtual connections.
Sentara offers an interactive Prostate Cancer Support Group that meets virtually, and other counseling opportunities to support those at any point in their cancer journey. Larry Todd, a member of the Prostate Cancer Support Group, has been attending the support group virtually since March. He shared, "I am grateful that this group continues to support our community even during the challenges posed by a pandemic." Larry encourages others to take advantage of these types of resources for both their physical and mental health during their own cancer survivorship.
By: Kelly Kennedy
---