Sentara opens the doors to three initial Sentara Community Care programs
New, innovative model of care launches to facilitate medical access, address social determinants of health, and improve health outcomes for Medicaid and uninsured individuals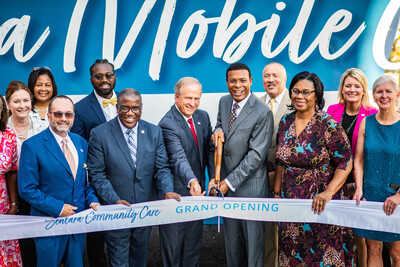 Sentara Healthcare has opened the first three programs of its new, innovative model of care, Sentara Community Care.
Two Sentara Community Care Centers have begun offering services in Norfolk, Va. – one inside the Union Mission homeless residential facility and a second in the medically underserved Berkley neighborhood – while the third program is servicing the entire Hampton Roads, Va. region via the Sentara Mobile Care bus.
Sentara Community Care plans to expand across Sentara's entire footprint in Virginia and North Carolina over the next two years.
"We are thrilled to launch Sentara Community Care and provide enhanced health and wellness access and resources to our most vulnerable residents. This new model of care, in tandem with our collaborative community partnerships, will improve health equity and address social determinants of health," said Howard P. Kern, president and CEO of Sentara Healthcare. "Sentara aims to advance our mission to improve health every day with this comprehensive approach, serving as a trusted partner on the path to total health and wellness for every individual and community we serve."
A New, Innovative Model of Care
Sentara Community Care offers neighborhood-level access to holistic care for Medicaid members, as well as uninsured and underinsured individuals, through two initial models: Sentara Community Care Centers and Sentara Mobile Care. The goal is to reduce traditional barriers to health and wellness by maximizing convenience and providing consistent, embedded medical and wrap-around services in neighborhoods that historically lacked access, have known health disparities, and statistically experience worse health outcomes.
"As one of the Commonwealth of Virginia's Medicaid providers, serving more than 700,000 members, we understand that the journey to health and well-being is more challenging to those facing significant social and environmental issues. We developed this innovative model of care through a community-driven approach, utilizing feedback from respected community and faith-based leaders to better identify and understand local needs, and establishing partnerships and services to fulfill them," said Dennis Matheis, president of Sentara Health Plans and incoming president and CEO of Sentara Healthcare. "Sentara Community Care enables us to leverage our position as an integrated health system to bridge gaps in healthcare and reduce health disparities as we deliver high-touch care directly to the communities that need it most."
The program idea was born out of three insights:
As an integrated delivery network with both medical professional and health plan services, Sentara has a unique ability to provide comprehensive primary care, pediatric care, and behavioral health services – both in person and virtual – as well as healthcare and health insurance navigation and enrollment services.
Sentara was able to combine geographic information system (GIS) technology with de-identified patient and member information to pinpoint and prioritize populations with the greatest needs and insufficient access to healthcare and community services.
By partnering with a variety of localized and community organizations, Sentara could devise solutions to address social determinants of health by enhancing access to vital resources and social services to meet each community's most pressing needs.
"Social determinants of health, such as housing, financial literacy, food insecurity and transportation needs, directly impact 80 percent of our health and well-being. Sentara's collaboration with various partners will help us better understand and address the specific factors unique to each neighborhood and its residents," said Jordan Asher, M.D., M.S., executive vice president and chief physician executive at Sentara. "Through this holistic, person-centered approach, we hope to build stronger, more equitable communities. In particular, Sentara Community Care will address gaps in care for our most vulnerable friends, neighbors and loved ones, right in the neighborhoods where they live, work, learn and play."
Dr. Asher oversees the Sentara Community Care program. Heather Strock serves as executive director of operations and Dr. Michael Charles serves as executive medical director. As SVP of Government Programs, Patricia Darnley is leading Sentara Health Plans' involvement in the program.
Sentara Community Care Opens its Doors
During summer 2022, Sentara launched its first three programs:
Sentara Mobile Care – Hampton Roads
The first Sentara Mobile Care bus is traveling across the Hampton Roads, Va. region to better support individuals struggling with traditional healthcare barriers: lack of transportation and time constraints. In addition to attending community events, Sentara Mobile Care is offering scheduled services at various locations, including Queen Street Baptist Church in Norfolk, Ivy Baptist Church in Newport News, and the Center for Global Diplomacy in Virginia Beach. Rotating mobile locations are selected to maximize convenience and proximity to other essential community organizations and services.
Sentara Community Care Center – Union Mission
To continue building on its longstanding partnership with the Union Mission – a homeless residential program in Norfolk, Va. – Sentara recently opened a community care center within the Union Mission facility to provide on-site care directly to residents. Through this care center, Sentara is offering both on-site and virtual care services, as well as care navigation and health improvement programs.
Sentara Community Care Center – Berkley/South Norfolk
Located on the ground floor of an affordable housing apartment complex, Sentara opened this community care center in one of Norfolk's most medically underserved neighborhoods. In addition to providing traditional healthcare services, Sentara is collaborating with community partners to provide expanded on-site social services and additional wellness resources.
The range of complementary social and wellness services that may be offered through Sentara Community Care include:
Food and nutrition security assistance
Cooking and health education services
Healthcare navigation
Substance use resources
Education and career training
Transportation assistance
Housing assistance
Domestic and community violence assistance
Financial literacy services
Services vary by location and are designed to meet the individual needs of the community. Contact Sentara Community Care at 757-388-1830 or visit www.sentara.com/communitycare for additional information regarding scheduling and services.
By: Rachel Bradshaw
---