Sentara honored with 2023 Health Care Heroes awards by Inside Business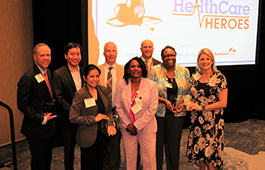 Two Sentara project teams and two Sentara team members have been honored with 2023 Health Care Heroes awards by Inside Business, the Hampton Roads business journal, published by Virginia Media, which includes the Virginian-Pilot and Daily Press newspapers.
Health Care Heroes is a long-running annual recognition involving dozens of nominations submitted by health systems, hospitals, and other providers in a variety of categories, and a panel of volunteer judges. Sentara Health took home four awards in four categories.
Sentara Community Care won in the Community Service category for launching a broadly expanded commitment to the underserved through community clinics and mobile care vehicles deployed to communities in need of medical services. Permanent clinics in Norfolk's Union Mission and the struggling Berkley neighborhood offer unprecedented access to preventive care and chronic disease management and connections to wraparound services for patients with complex needs. Mobile clinics are on the move from Hampton Roads to Petersburg, offering routine care closer to home for patients who may have transportation issues. The majority of patients seen by Sentara Community Care are Medicaid members or uninsured. "It's a little bit of medicine and a lot of other things," says Heather Strock, Executive Director of Sentara Community Care. "We center around trust and relationships."
The award for Corporate Achievements in Health Care went to the Sentara Behavioral Health Tactical Operations Committee. The system-wide multidisciplinary project team was formed in the summer of 2021, when the Commonwealth of Virginia blocked admissions to five state psychiatric hospitals due to staffing and safety issues. That decision created a crisis overnight for emergency departments across the state, which are often the entry point to the mental health system for patients in crisis. Sentara seized the moment to fundamentally change, standardize and streamline Sentara's system-wide response to behavioral health needs, while building new connections and collaborations with Community Services Boards and private facilities in communities across Virginia. Developments include safety improvements and additional staffing in ERs, creation of a community care center in Virginia Beach for outpatient services and the launch of SOBR, a bridge to treatment for patients with opioid use disorders. The team was led by Sentara Virginia Beach General Hospital President Bernie Boone, who is system executive for behavioral health, Nedra Moncrief-Craig, system Director for Behavioral Health and Dr. Dan Dickinson, Vice President of Complex Care Solutions for Sentara Medical Group. "You can't solve this in isolation," Dr. Dickinson says. "It's really a community effort."
Sentara Physicist David Weimer won an award in the Health Care Scientist category for decades of work in radiation oncology and championing innovative cancer treatments in Hampton Roads. These include the first-in-the-region offering of Pluvicto, a newly approved therapy for prostate cancer, and the introduction of Cyber-Knife, a state-of-the-art stereotactic radiosurgery system at Sentara Norfolk General Hospital. In 2020, he oversaw the introduction of Lutathera to the region, a radioactive therapy for patients who, as he puts it, "chemotherapy has failed." Weimer also oversaw the introduction of Intrabeam therapy for early-stage breast cancers. Always modest, Weimer describes his life-saving scientific work as "part of the job."
The award for Nurse: Innovator went to Sentara Nurse Navigator Cathy Finuliar. In her first year as Team Coordinator for the Sentara oncology nurse navigator program, Finuliar is credited with launching new services and creating patient-focused partnerships that improve coordination of care for patients navigating the complex, sometimes baffling journey that is breast cancer. One example is offering patients a Personal Health Inventory to determine if they would benefit and are open to integrative therapies such as meditation, yoga, massage therapy or acupuncture to help them feel better. Finuliar currently works at the Sentara Brock Cancer Center in Norfolk, where she leads 12 nurse navigators and a social worker at Sentara Breast Centers stretching from Williamsburg to Elizabeth City, North Carolina.
Sentara offers thanks and gratitude to our 30,000 colleagues who come to work focused on our mission to improve health every day.
---