Sentara RMH Medical Center Names New Chief Nursing Officer
Gina Yost has been with Sentara RMH for 27 years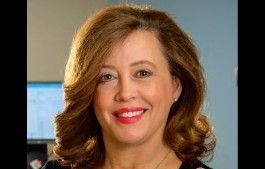 Gina Yost has been named Chief Nursing Officer (CNO) for Sentara RMH Medical Center. She is a registered nurse with more than 29 years of clinical and leadership experience. Yost has been a team member of Sentara RMH since 1997, serving in several supervisory capacities, including the past three years as the Director of Surgical Services.

"Gina has dedicated her career to caring for patients, improving hospital performance, and developing a talented staff," says Doug Moyer, president of Sentara RMH Medical Center. "She has demonstrated, time and again, her commitment to serving the community and strives for continued excellence in patient outcomes at Sentara RMH."

Yost, a Shenandoah Valley native, has an established foundation in clinical skills through her work in the specialties of critical care, emergency medicine, and surgical care.

"During my time at Sentara RMH, I have cultivated many valuable relationships with staff, which I believe will be essential to our future success," says Yost. "I look forward to working collaboratively to bring forth impactful change that will benefit the patients and families we serve."

As Chief Nursing Officer, Yost will be responsible for the success of the patient care departments, recruitment and retention strategies for nursing personnel, continuing education for nursing personnel, standards of care, and policies and procedures.

Yost holds a Master of Science in Nursing in Nursing Administration from Liberty University. She earned her Bachelor of Science in Nursing at James Madison University. She is also on track to complete her Doctor of Nursing Practice from Liberty University in December 2024.

She is a member of the American Nurses Association, Virginia Nurses Association, American Organization for Nursing Leadership, and Virginia Organization for Nurse Executives and Leaders.

"Over the course of my career, I have dedicated myself to becoming a leader committed to organizational excellence and providing the highest quality outcomes," says Yost. "As a Chief Nursing Officer, my goal is to build upon the high-quality nursing care our patients receive, and that the community expects from Sentara RMH."
By: Bob Grebe
---