Sentara's Wendy Atkinson receives Healthcare Council award
Employee of the Year Award recognizes sustainability, quality, and customer/patient satisfaction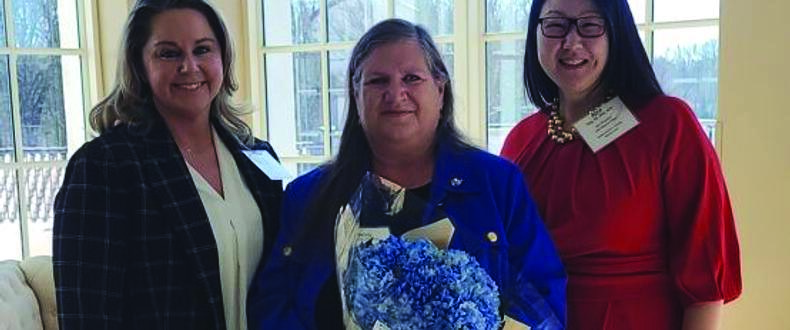 Wendy Atkinson, senior director of the integrated care management team at Sentara Northern Virginia Medical Center was among the honored recipients of the 2023 Healthcare Council Employee of the Year Award. The Healthcare Council's Annual Employee of the Year Awards and the Matthew F. McNulty Award Luncheon was held at Congressional Country Club in Bethesda, Md. on March 9, 2023.
Presented annually, Healthcare Council member organizations each select an outstanding team member for the Employee of the Year Award. Recognition is given to those who made a significant contribution in healthcare in 2022 and is based on three criteria: Sustainability, Quality, and Customer/Patient Satisfaction.
As leader of the integrated care management team, Atkinson has been a main force in driving down readmission rates, as well as 30-day mortality at SNVMC. She spear-headed the palliative care program from the ground up. As a result, palliative care is part of the culture at the hospital. To reduce readmission, she worked tirelessly to ensure transition care management for discharged patients. As a result, SNVMC was able to increase compliance with follow-up appointments for patients that were higher risk for readmission. Atkinson is also skilled at maintaining financial sustainability within her department and is recognized for her efficiently.
"Wendy has a quality-driven mindset unmatched by anyone I've encountered in over 20 years of healthcare and her dedication and knowledge base is unparalleled," said Alice Tang, DO, MPH, MBA, vice president and chief medical officer at Sentara Northern Virginia Medical Center. "She advocates for optimal patient-centered care while maintaining reasonable boundaries within the healthcare continuum. She sets high goals, does not back down from a challenge, and makes sacrifices to ensure the job is done all while exceeding expectations."
Honorees of this special award consist of physicians, nurses, therapists, patient relations specialists, environmental services employees, pharmacists, human resources specialists, community outreach providers, and more.
"The awards celebration is about honoring those who have in some way in 2022 excelled in the work they do," remarked Les H. Pitton, president & CEO, The Healthcare Council. "All healthcare workers and associates have been and continue to be heroes and we are honored to be recognizing each individual who stand out in a special way, meeting all the criteria required."
The Healthcare Council is an association of healthcare providers, schools, and health-related institutions serving the Mid-Atlantic region. The organization is dedicated to encouraging co-operative working relationships and promoting quality healthcare in the area.
Learn more about Sentara Healthcare's mission at
Sentara.com
.
By: Jon Radulovic
---