Sentara Leigh Hospital provides their patients and communities a best-in-class experience. Recently renovated in 2016, our community hospital has the ability to continue to grow and expand on the many resources we provide across our communities in Norfolk, Virginia.
Through evidence-based practices our nurses and staff, support the community around us by achieving excellence in several nursing specialties and education, including being recognized as a teaching hospital and for outstanding orthopedic care at our state-of-the-art orthopedic hospital. We also specialize in cardiac, general surgery, gynecological, obstetrical, advanced imaging, and comprehensive breast care services.
Want to learn more about the Sentara nursing experience, including our continuing education opportunities and dedication to shared governance?
LEARN MORE ABOUT SENTARA NURSING
The DAISY Recognition Program
The DAISY recognition program is a nationally recognized award program highlighting nurses providing compassionate care. Nurses are nominated by anyone in the organization - patients, family members, other nurses, physicians, other clinicians, and staff - who experiences or observes extraordinary care.
Nursing Awards and Recognitions: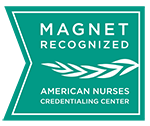 Magnet®
Sentara Leigh Hospital initially received Magnet recognition from the American Nurses Credentialing Center (ANCC) in October 2015 and was re-designated in April of 2020. ANCC's Magnet Recognition Program® identifies superior quality in nursing care and is the highest national honor for nursing excellence.
Fortune/Merative 100 Top Hospitals®
Sentara Leigh Hospital was recently named to the 2022 Fortune/Merative 100 Top Hospitals® list. This is the 7th time we have been recognized with this honor as one of the top-performing teaching hospitals in the United States.
The annual list recognizes excellence in clinical outcomes, operational efficiency, patient experience, and financial health. Merative, formerly known as IBM Watson Health, established the list to help identify best practices that may help other healthcare organizations achieve consistent, balanced, and sustainable high performance.
Prism Honoree
In March 2022, 2 West at Sentara Leigh Hospital became the second PRISM honoree within Sentara. The AMSN PRISM Award is co-sponsored by the Academy of Medical-Surgical Nurses (AMSN) and the Medical-Surgical Nursing Certification Board (MSNCB). PRISM stands for Premier Recognition in the Specialty of Med-surg.
Apply and grow your nursing career here at Sentara.
Hiring nurses for all specialities.