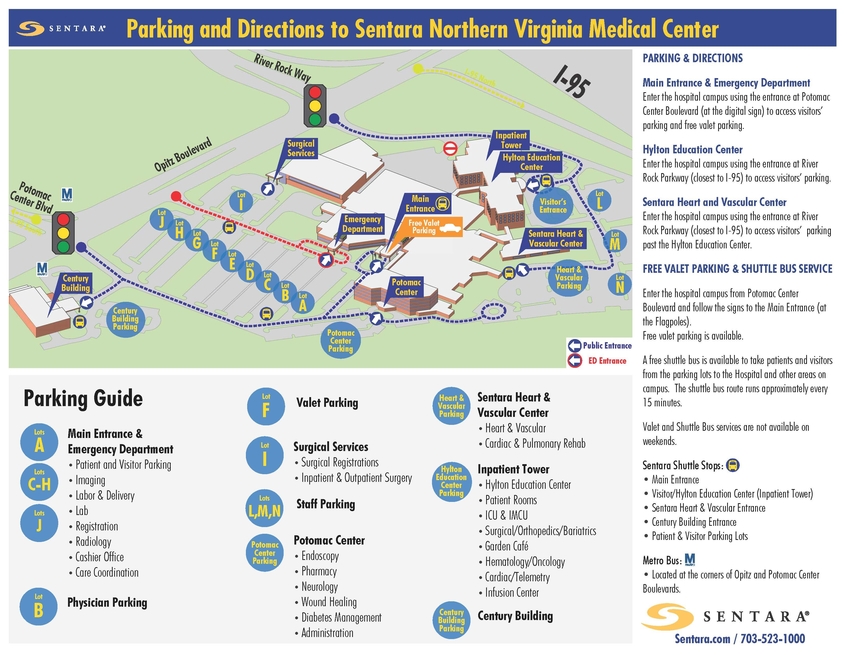 Free valet and shuttle bus services are available in the large parking lot outside of the main entrance of the hospital (entering from Potomac Center Boulevard) and in the parking lot outside the visitor's entrance (entering from River Rock Way).

A free shuttle bus is available to take patients and visitors from the parking lots to the hospital. Follow signs to the main entrance of the hospital (at the flagpoles) to use this service.

The shuttle bus and valet services are not available evenings or weekends.
Additional Parking Information
General patient parking is available outside of the Main Entrance and Emergency Department Entrance. Enter the hospital campus using the entrance at Potomac Center Boulevard to access valet parking for patients and visitor's parking.

For visitors and classes or events in the Hylton Education Center, visitor parking is available outside of the Visitor's Entrance. Enter the hospital campus using the entrance at River Rock Way to access visitor's parking.

For Sentara Heart and Vascular Center patients, parking is available directly outside the center. Enter the hospital campus using the entrance at River Rock Way to access the parking lot.

Download map for inside the hospital