Sentara Williamsburg Regional Medical Center provides a comforting and quality patient experience within our community hospital. We offer a full range of medical and surgical care, including emergency, cancer care, heart and vascular, maternity, pediatrics, orthopedics, and spine.

At Sentara Williamsburg Regional Medical Center, we are focused on offering the highest quality care and unwavering commitment to our patients and our organization. And our nurses are very integral part of our team. Because of the work we do, we utilize a shared governance model that allows our nurses to share in the decision-making process around issues that impact nursing practice. Our constant is the dedication and commitment they provide in caring for our patients and each other.

Want to learn more about the Sentara nursing experience, including our continuing education opportunities and dedication to shared governance?
LEARN MORE ABOUT SENTARA NURSING
The DAISY Recognition Program
The DAISY recognition program is a nationally recognized award program highlighting nurses providing compassionate care. Nurses are nominated by anyone in the organization - patients, family members, other nurses, physicians, other clinicians, and staff - who experiences or observes extraordinary care.
Nominate an outstanding nurse.
Nursing Awards and Recognitions: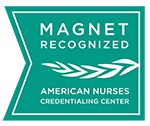 Magnet®
Sentara Williamsburg Regional Medical Center received Magnet® recognition from the American Nurses Credentialing Center (ANCC) in 2014 and received redesignation in 2019. ANCC's Magnet Recognition Program® identifies superior quality in nursing care and is the highest national honor for nursing excellence.

The Beacon Award
Sentara Williamsburg Regional Medical Center's Intensive Care Unit was recently recognized with a Beacon award. The American Association of Critical-Care Nurses (AACN) offers The Beacon Award for Excellence to honor nursing units that distinguish themselves for providing excellence in patient care