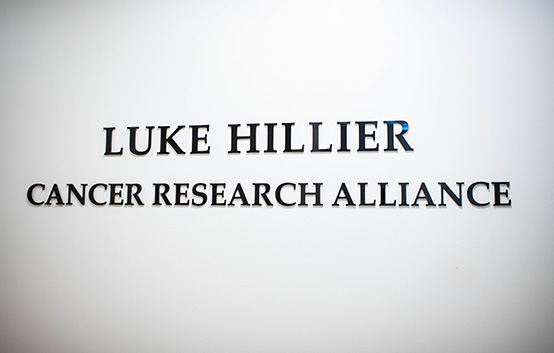 The Luke Hillier Cancer Research Alliance is an innovative partnership between the Sentara Health Research Center, the Sentara Brock Cancer Center, the Sentara Foundation, Eastern Virginia Medical School (EVMS) and Virginia Oncology Associates.
Since opening in June 2019, the Sentara Brock Cancer Center has provided an unprecedented level of collaboration under one roof that has directly benefited the patients in this community. The latest advancement at the Sentara Brock Cancer Center came with a transformational gift from Virginia Beach native, Luke Hillier to form the Luke Hillier Cancer Research Alliance.
The gift will enable Sentara's collaboration with longtime partners EVMS and Virginia Oncology Associates to advance oncology research in the communities we serve. Clinical research is a significant force in the advancement of treatments for different cancers. Many of our treatment therapies are a result of previous clinical trials. It is critical to understand the role of clinical research in oncology, as it is central for discovering and improving cancer treatments for people worldwide.
The importance of cancer research in the treatment of cancer is fundamental to improving outcomes by finding new and better ways to treat cancer. By tapping into the strengths and expertise of each of the organizations, together, we can provide the patients of Hampton Roads with the latest in innovative clinical trials. The Alliance will provide expanded access to early phase clinical trials, translational research and biospecimen banking opportunities. There will be an added focus on health equities and outcomes research to address the health equities that exist in our communities. Together, we hope to improve the health of our community.
For information on how to apply for funds from the Luke Hillier Cancer Research Alliance, please email research@sentara.com.