At Sentara, we recognize that our patients and members come to us from diverse personal and cultural backgrounds, with different values, belief systems, traditions, and practices. Our goal is to deliver culturally appropriate care and create a welcoming environment for all, regardless of age, race, sexual orientation, religion, disability, or any other factor. We work to honor patient and member preferences in their healthcare experience including diet, communication, decision-making, and spirituality needs.
Sentara Healthcare does not discriminate against any person on the grounds of race, culture, color, religion, marital status, age, sex, sexual orientation, gender identity or gender expression, national origin or any disability or handicap or source of payment in admission or access to, or treatment or employment under any of its programs and activities. Visit the link below for additional information on filing a grievance.
Notice of Nondiscrimination | Sentara Healthcare
We provide
Communication aids and services free of charge to people with disabilities and those who have limited English proficiency, including:

Qualified interpreters
Personal amplifiers, communication boards, and other aids
Information printed in Braille and written in other languages

Information on health topics, for example a new diagnosis such as diabetes or hypertension in multiple languages
If you need an interpreter, please let a Sentara team member know or contact us at 844-809-6648. Visit the link below for additional information on language services.
Language Assistance Services | Sentara Healthcare
We want to hear from you
We want to be respectful of your cultural beliefs, values, and preferences. We encourage you to speak to your care team and let them know if you have specific needs related to:

Diet, modesty, spirituality and prayer, decision-making
Family involvement
Traditions or rituals
Anything else that you'd like to share with your Sentara team that can help us enhance or personalize your experience.

Sentara is committed to improving health every day. Patient feedback is an important part of creating an extraordinary healthcare experience. If you have a patient care or safety concern, we encourage you to first bring your concern to the attention of the specific team or facility that you are working with. If you have a patient care or safety concern for a non-hospital facility, please feel free to use our Patient Care Feedback form to let us know. We take this feedback directly to the source for follow-up with you.
For Our LGBTQ+ Patients
Are you LGBTQ+ and looking for a healthcare provider that you can trust? Sentara hospitals are recognized by the Human Rights Campaign Healthcare Equality Index (HEI), which is the national LGBTQ+ benchmarking tool evaluating healthcare facilities' policies and practices related to the equity and inclusion of their LGBTQ+ patients, visitors, and employees.
Leader in LGBTQ Healthcare Equity
Sentara has been recognized as a leader in LGBTQ healthcare by the Human Rights Campaign Foundation.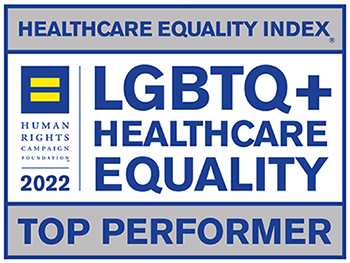 Know Your Health Care Rights