Sentara partners with Harrisonburg City Public Schools to provide required health services to uninsured and Medicaid students
Sentara celebrates opening of new Community Care Center and announces program expansion plans in Harrisonburg, Va.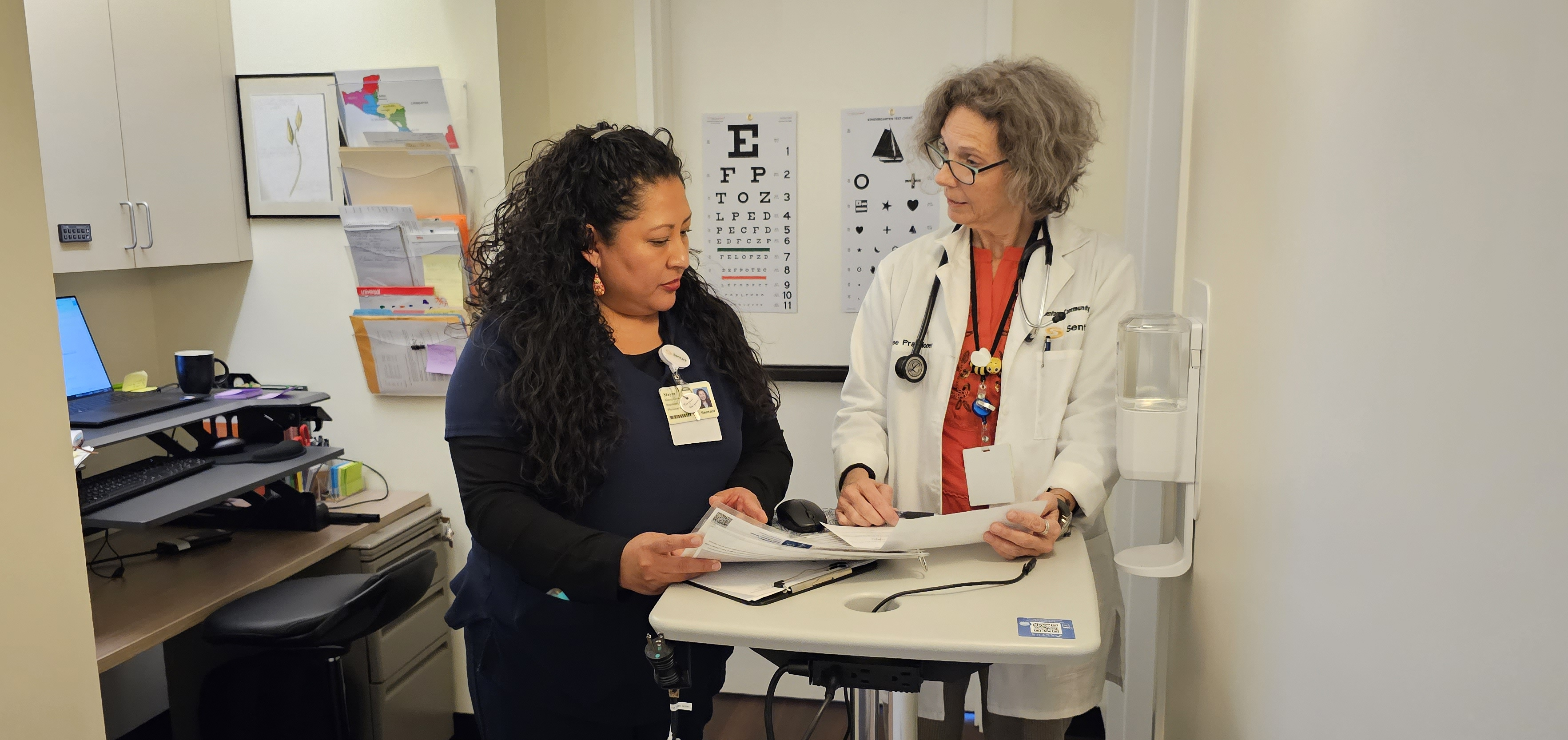 Sentara Health hosted a ribbon-cutting ceremony to celebrate the official opening of its Sentara Community Care Center in Harrisonburg, Va.
In partnership with Harrisonburg City Public Schools, this new center – part of the organization's new and innovative Sentara Community Care program – offers primary care services, behavioral health services, school entry physicals, and vaccinations to uninsured and Medicaid students. In the months ahead, Sentara will continue dedicating wellness resources to this population via a Sentara Mobile Care vehicle, which will provide additional health and wellness services in Harrisonburg and surrounding rural counties in a more flexible and convenient format.
"Our collaborative partnerships within the community are truly the heart and soul of our work through Sentara Community Care," said Heather Strock, executive director of operations for Sentara Community Care. "We are actively listening to and working with our communities to better understand their most pressing needs and potential gaps in care so that Sentara can be a part of the solution. We are thrilled to partner with Harrisonburg City Public Schools to enhance access to vital health and social services for students, their families, and community members."
The Sentara Community Care Center is on the first floor of the Harrisonburg City Public Schools Family Resource Center located at 640 South Main Street in Harrisonburg. The center will support the school system's strategy to help reduce barriers and long wait times for uninsured and Medicaid students to receive immunizations and physicals for school entrance requirements.
"We believe that community engagement is not just an expectation, but our responsibility as a school division," said April Howard, chief officer for student support, Harrisonburg City Public Schools. "Harrisonburg City Public School nurses are excited about the possibilities that lie ahead as we continue to expand our community engagement while building positive relationships with our families. Together, with Sentara Community Care, we aim to create a better, healthier, and more accessible connected community healthcare option."
"As part of our ongoing commitment to making our families feel welcome and assisting them with the sometimes complicated process of getting their students enrolled in school, we have established this unique partnership with Sentara," said Dr. Michael Richards, superintendent, Harrisonburg City Public Schools. "We're proud to add this innovative feature to our extensive portfolio of family support."
Harrisonburg is a diverse community, and its public school system reflects that diversity. Currently, more than 90 percent of the patients at the Sentara Community Care Center in Harrisonburg are non-English speakers. To help bridge the communication gap, the facility has several bilingual, English, and Spanish-speaking team members and is equipped with multiple Sentara Language Line devices.
This is the first step in the planned growth of Sentara Community Care in the Harrisonburg community. Future plans include providing on-site medical care and integrating virtual care technology in Title I schools in Harrisonburg. Sentara will also dedicate a Sentara Mobile Care vehicle to provide direct primary care, behavioral health, and social support services to Medicaid and uninsured community members in Harrisonburg and surrounding rural counties. Sentara Mobile Care is designed to support individuals struggling with traditional healthcare barriers: lack of transportation and time constraints. Rotating mobile locations are selected to maximize convenience and proximity to other essential community organizations and services that are most needed in the community.
As the largest Medicaid provider and largest Medicaid managed care organization in the Commonwealth, Sentara consistently seeks opportunities to enhance and refine the services provided to Medicaid beneficiaries, working with community partners and the Department of Medical Assistance Services to improve the quality of care for Medicaid and uninsured residents. The company's Sentara Mobile Care vehicles and Sentara Community Care Centers – which are already serving communities in Hampton Roads, Northern Virginia, and Petersburg – are a direct result of these efforts. Sentara will continue to expand this new, innovative model of care across the Commonwealth in 2024.
Sentara Community Care brings health and wellness services to communities where individuals live, work, play, and worship. This innovative model of care focuses on dismantling barriers and advancing health equity by leveraging community partners and resources to build networks and uplift the community. Through collaboration with local community partners, Sentara Community Care builds on its existing efforts to address social drivers of health, especially in support of those who are most vulnerable and have the greatest needs.
---