Sentara Health dedicates Sentara Mobile Care in Petersburg, Virginia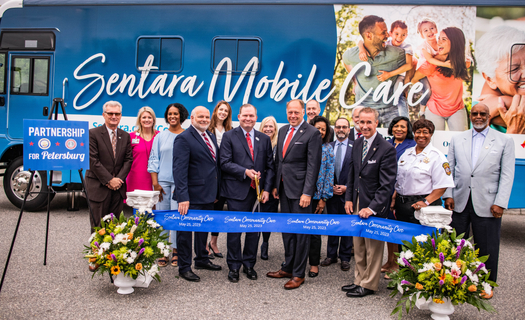 Sentara celebrated the official launch of Sentara Mobile Care in Petersburg, Virginia, during a ribbon-cutting ceremony at the Petersburg Public Library. The Sentara Mobile Care vehicle - part of the organization's new and innovative Sentara Community Care program - will provide direct primary care, behavioral health, and social support services to the Petersburg community in a more flexible and convenient format. In the months ahead, the Sentara Community Care team will also explore opportunities to integrate women's health services into its service offerings.
"As an Integrated Delivery Network, Sentara's direct care clinicians and our health coverage leadership work closely together, allowing us to better understand the unique needs of the different communities we serve - and then identify and create innovative solutions to better serve the healthcare needs of the residents in those communities," said Dennis Matheis, President and Chief Executive Officer for Sentara. "Our new model of care, Sentara Community Care, is an example of that innovation, bringing together a variety of healthcare providers and services in a single location. I'm delighted to be here for this morning's dedication ceremony, and I'm particularly pleased that Petersburg residents can start receiving exceptional service from our Sentara Community Care team today!"
"With each positive step we take to improve the health outcomes for Petersburg, we are constantly looking for opportunities to build on each success," said Linda Hines, Medicaid Plan President of Sentara Health Plans. "We have been involved in and committed to improving the health of the Petersburg community for over 25 years. Our Sentara Mobile Care vehicle in Petersburg is another step in our ongoing journey to create greater health equity and access to care in the communities we serve."
During the ceremony, Sentara also announced the creation of a $2 million behavioral health innovation fund aimed at improving access to behavioral health services throughout the state. This fund will focus on several key areas, including: enhancing the response system for behavioral health needs; improving access to care; fostering innovation that can be scalable; and strengthening partnerships with safety net providers in this space.
"This initiative will bring great value to the residents of Petersburg," said John Littel, Virginia's Secretary of Health and Human Resources, who joined Sentara leaders and other distinguished guests at the ribbon-cutting ceremony today. "Sentara is setting an example of how we can make health services more readily available through public-private partnerships. And with the new Behavioral Health Innovation Fund, we can widen these services even more to enhance the response system and improve access to care. Thanks to Sentara's work, we are taking another step forward to achieving the Governor's goals for Petersburg and the Commonwealth of Virginia."
As the largest Medicaid provider and largest Medicaid managed care organization in the Commonwealth, Sentara consistently seeks opportunities to enhance and refine the services provided to Medicaid beneficiaries, working with community partners and the Department of Medical Assistance Services to improve the quality of care for Medicaid and uninsured residents. The company's Sentara Mobile Care vehicles and Sentara Community Care Centers, which are already serving communities in Hampton Roads and Northern Virginia, are a direct result of these efforts. Sentara will continue to expand this new, innovative model of care across the Commonwealth in 2023.
Sentara Community Care brings health and wellness services to communities where individuals live, work, play, and worship. This innovative model of care focuses on dismantling barriers and advancing health equity by leveraging community partners and resources to build networks and uplift the community. Through collaboration with local community partners, Sentara Mobile Care in Petersburg builds on its existing efforts to address social drivers of health, especially in support of those who are most vulnerable and have the greatest needs. Together, Sentara Community Care and its partner organizations offer a variety of wrap-around services and wellness resources to meet each community's most pressing needs, which could include healthy food, transportation, financial literacy services, substance use resources, and education or career training.
Sentara Mobile Care is designed to support individuals struggling with traditional healthcare barriers: lack of transportation and time constraints. Rotating mobile locations are selected to maximize convenience and proximity to other essential community organizations and services that are most needed in the community. Effective immediately, the Sentara Mobile Care vehicle in Petersburg will begin offering scheduled services at the following two locations:
Petersburg Public Library
201 W. Washington St., Petersburg, VA 23803
Thursdays, 2 - 5 p.m.
827 Commerce St., Petersburg, VA 23804
Thursdays, 10 a.m. - 1 p.m.
Sentara opened the first three Sentara Community Care programs in Hampton Roads. Two Sentara Community Care Centers are offering services in Norfolk, Va. - one inside the Union Mission homeless residential facility and a second in the medically underserved Berkley neighborhood - while the third program is servicing the entire Hampton Roads, Va., region via a Sentara Mobile Care vehicle. Already, Sentara Community Care has achieved measurable results for the community.
---