Sentara Community Care achieves measurable results in 2022, plans to expand across the Commonwealth in 2023
Program efforts focus on addressing social drivers of health, expanding access to care, and improving public health outcomes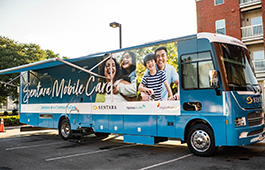 Since the official launch in Hampton Roads in August 2022, Sentara Healthcare's Sentara Community Care (SCC) program has provided care to more than 2,150 individuals, making an immediate impact on public health outcomes in the communities Sentara serves. Sentara continues to expand its new, innovative model of care across the state via Sentara Community Care Centers and Sentara Mobile Care, and will soon begin offering services in Richmond, Petersburg, Harrisonburg, Danville, Newport News, and surrounding counties in 2023.

"Our journey began in 2021 with the desire to further Sentara's community engagement and impact initiatives to address health disparities, expand access to care, and improve health outcomes for our 700K+ Medicaid members as well as those who are uninsured. Sentara Community Care is an upstream solution that best cares for these community members," said Heather Strock, Sentara's executive director of operations for Sentara Community Care. "Sentara Community Care better enables us to live out our mission in a holistic manner focusing on those who are most in need due to social drivers of health, those factors which directly impact 80 percent of a person's health and well-being – factors that occur outside the walls of medical offices and facilities."

Sentara Community Care brings health and wellness services to communities where individuals live, work, play, and worship. This innovative model of care focuses on dismantling barriers and advancing health equity by leveraging community partners and resources to build networks and uplift the community. When needed, Sentara Community Care offers neighborhood-level access to holistic care for Medicaid members, as well as uninsured and underinsured individuals, through two initial models: Sentara Community Care Centers and Sentara Mobile Care. The goal is to reduce traditional barriers by maximizing convenience and providing consistent, embedded medical and wrap-around services in neighborhoods that historically lacked access, have known health disparities, and statistically experience worse health outcomes.

Sentara Community Care: 2022 Highlights

Sentara Community Care has achieved measurable results since the program's inception. Among the top highlights include:
Sentara opened the first three Sentara Community Care programs in Hampton Roads. Two Sentara Community Care Centers are offering services in Norfolk, Va. – one inside the Union Mission homeless residential facility and a second in the medically underserved Berkley neighborhood – while the third program is servicing the entire Hampton Roads, Va. region via the Sentara Mobile Care RV.
Since opening the Union Mission Community Care Center, there has been an 80% reduction in EMS calls/transports of Union Mission residents to Sentara Emergency Departments.
Sentara Mobile Care of Hampton Roads delivered health and wellness services directly to more than 25 communities between September and December 2022. In 2023, Sentara anticipates delivering direct care to more than 50 communities across the Commonwealth via Sentara Community Care and Sentara Mobile Care's six mobile units.
In mid-October, Sentara aligned an existing community care center and two mobile care units in Northern Virginia with the Sentara Community Care model and expanded services to continue serving uninsured individuals and families and also reach Medicaid and Medicare members.
Sentara Community Care – in collaboration with Sentara's Health Equity team – has assisted more than 1,500 individuals at more than 250 community events, providing health education and screenings, Covid and flu vaccinations, preventative services, and support to address social drivers of health.
More than 650 individuals have received direct care by a Sentara Community Care clinician. Patients have seen improvements in chronic disease management and increases in preventative services and screenings.
The Sentara Community Care team has assisted 75 patients in insurance enrollment and reenrollment support.
Sentara is partnering with a variety of local community organizations, such as food banks, to devise solutions to address social drivers of health by enhancing access to vital resources and social services to meet each community's most pressing needs. The Sentara Community Care team has identified and is supporting the top needs in our communities, including health insurance, financial support, substance use, food security, social isolation, transportation, and mental health.
For additional updates and information on Sentara Community Care plans and services, visit www.sentara.com/communitycare or call 757-388-1830.
---