Sentara opens medical office building in Elizabeth City, NC
New home to the Sentara Cancer Care Center, cardiac rehab, family medicine and more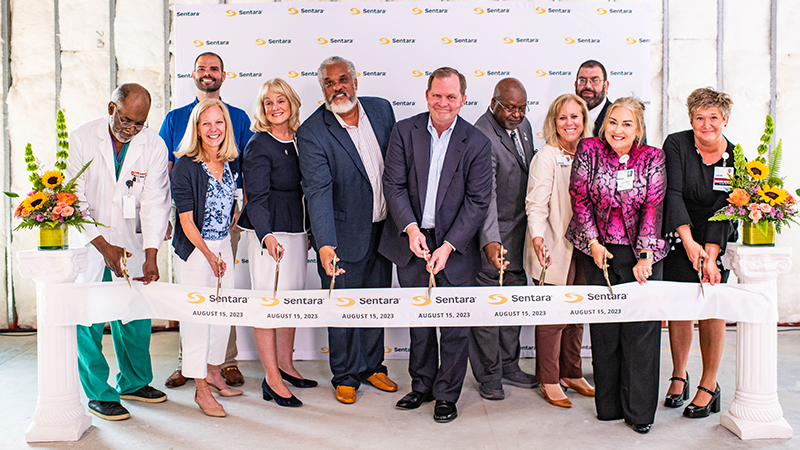 Sentara cut the ribbon on an 80,000-square-foot medical office building (MOB) on the 135-acre Sentara Albemarle Regional Health Campus in Elizabeth City, NC. The campus includes an 80-bed hospital under construction and three acres for the Pasquotank/Camden EMS program to build a new station. The $200M campus, at the corner of Thunder Road and Halstead Boulevard Extended, is the largest construction project in the region since the current hospital on North Road Street opened more than 60 years ago.
"This new campus represents Sentara's dedication to northeast North Carolina," said
Sentara President and Chief Executive Officer Dennis Matheis
. "It's a testament to our commitment to the health and future of this region."
The MOB will consolidate cancer services under the name Sentara Cancer Care Center. The center will include a state-of-the-art linear accelerator for radiation oncology and stereotactic radiosurgery, plus chemotherapy and supportive patient services.
The MOB will also house a Sentara Family Medicine practice and Cardiac Rehabilitation program. Other practices connected to the current hospital will move into the MOB when the new hospital opens in 2025. Plans call for a digital hub connecting patients virtually with Sentara medical specialists in the Hampton Roads, Virginia area.
"The first step in having a wealthy city is having a healthy city," said Elizabeth City Mayor Kirk Rivers. "Sentara is making it possible for our people to have world class heath care without leaving the area." Rivers says education and health care drive decisions by businesses and individuals on where to expand or settle.
"It's really an honor to be part of the Sentara team during such an exciting time for health care in northeast North Carolina," said Teresa Watson, President of Sentara Albemarle Medical Center. "I'm about as new here as this building, but I'm not new to health care or building a replacement hospital."
The new hospital, designed by Innovate Architecture of Norfolk, will feature a high-efficiency, patient-centric layout representing the trend toward preventive care, outpatient services, virtual technologies, shorter stays and home-based recovery.
Sentara and Pasquotank County previously announced a settlement plan for Sentara's 30-year lease on the current county-owned hospital. Sentara took over operations in March 2014 after winning a public bidding process. As part of the settlement, Sentara has placed $38M in an escrow account until the new hospital opens. Pasquotank County will retain ownership of the current hospital site on North Road Street.
The new health campus is the first large-scale application of the Sentara commitment to diversify its supply chain activities. "We invited 140 local businesses to bid on various parts of the project, including 29 minority owned businesses, 43 women owned businesses and 93 small businesses," said Dennis Matheis. "We are continuing to grow those partnerships and looking for future opportunities for engagement as we continue with construction of the hospital."
Primary contractor Whiting-Turner has partnered with Elizabeth City State University's Small Business Technology Development Center to help area small businesses qualify to bid successfully, to participate in the broad-based economic activity the new campus will generate. Sentara supply chain received the 2022 Regional Business of the Year award from the Carolinas-Virginia Minority Supplier Development Council for its ongoing commitment to diversity.
Dennis Matheis also noted Sentara's commitment to its not-for-profit mission through investments and partnerships with local nonprofits, and providing uncompensated care for uninsured and underinsured patients. Last year, Sentara's giving in those two categories totaled $4.36 million in northeast North Carolina.
---