10 Answers to Burning Summer Safety Questions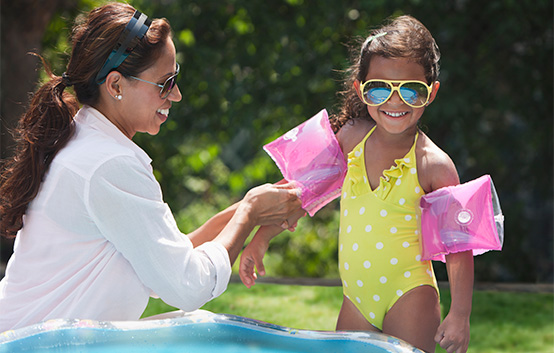 Summertime gives us a chance to take a break from our usual routines and explore the outdoors, plan beach days, hang out by the pool, spend time with friends at a picnic or barbeque, and so much more.
But it also means sunburns, bug bites and maybe even a tumble during a bike ride, among other summer safety concerns. In fact, every year, emergency visits spike in the summer. According to hospital statistics, the Fourth of July is one of the busiest days in E.R.s across the U.S.
"We are more active in the summer, so that opens up more possibilities for injuries," says Michael J. Godard, D.O., emergency medicine physician at Sentara Halifax Regional Hospital. "We tend to see people more for sprains and broken bones, dehydration, burns and foodborne illnesses from food that's sat out too long."
To enjoy a healthy, happy summer, here are some answers to 10 common summer questions.
Sun
What should I look for in sunscreen?
The American Academy of Dermatology (AAD) recommends sunscreen with:
Broad-spectrum protection (protects against UVA and UVB rays)
SPF 30 or higher
Water resistance
Remember your feet, neck, ears and the top of your head. Reapply every two hours or after swimming or sweating. And don't skimp! Put on the equivalent of a shot full of sunscreen on.
If you've got a stubborn teen who argues about using sunscreen, even when you remind them about skin cancer, appeal to their vanity and let them know that increased sun exposure leads to early skin aging.
At what age is sunscreen safe for kids?
The AAD recommends starting sunscreen use when babies are six months old. Before then, protect infants from the sun by keeping them in the shade and dressing them in long sleeves and pants (that won't overheat them).
Sunscreens that use zinc oxide, titanium dioxide or special sunscreens made for infants or toddlers may cause less irritation to their sensitive skin, suggests the AAD.
What about sunscreen sprays?
The jury is out. The Food and Drug Administration continues to evaluate the safety and effectiveness of spray sunscreens. One of the main concerns is not being able to gauge whether enough has been applied. So, spray an adequate amount and rub it in to ensure better and even coverage.
Swim
How can I keep my kids safe at the pool or beach?
First, if possible, find a swimming spot with lifeguards. Keep your eyes on kids and be within arm's length if they are not strong swimmers. It's easy to get distracted in a conversation, book or magazine. Of course, adults deserve a chance to relax, too, so share duty with a friend so you can enjoy your light summer reading or podcast.
How can I spot a rip current?
A rip current is a narrow, fast-moving channel that drags water from the shore out to the ocean. They catch people by surprise and lead to drownings.
To spot a rip current, look for places with a gap in waves. The water in a rip current may look darker than the breaking waves and whitewater on each side. You may see foam or sediment in the water transported from the beach into the ocean. You can also look for sand being sucked from the shore into the sea.
If you get caught in a rip current, try to stay calm. The fast-moving current won't pull you underwater. Instead, it will pull you away from shore, and you can safely swim back in.
Bugs
How should I pick out a bug spray?
Use insect repellent products registered by the Environmental Protection Agency (EPA). These products contain DEET, picaridin, oil of lemon eucalyptus or other EPA-registered active ingredients. Insect repellants work not by killing bugs but by keeping those that bite (not those that sting) away from you.
What is DEET?
DEET is the active ingredient in many repellent products. When we use it, bugs have a harder time smelling us. After the U.S. Army developed DEET in 1946, it was made available to the general public in 1957. At times DEET has gotten a bad rap, but after extensive research, the EPA has determined DEET doesn't present a health concern.
Like sunscreen, DEET comes in different levels of protection. For example, 10 percent DEET protects for about two hours, and 30 percent DEET protects for about 5 hours. According to the American Academy of Pediatrics, a higher concentration works longer, but anything over 50% DEET does not provide more extended protection.
Is bug spray safe for kids?
The skin of infants and toddlers is more sensitive than that of an older child or adult. Therefore, apply DEET sparingly. Parents of newborns and premature infants should be especially cautious when deciding whether to use DEET or other chemicals on their child's skin, advises the American Academy of Pediatrics. In addition, products made with the oil of lemon eucalyptus should not be used on children younger than 3 years.
Fireworks
How can I keep my family safe with home fireworks?
First, leave the task to responsible adults. Ensure no one is in the potential fireworks path and have a bucket of water or hose ready nearby. If a firework is a dud, do not try to relight or inspect it. When you are done for the night, soak fireworks in water before they go in the trash.
What about sparklers?
Sparklers can heat up to 2,000 degrees Fahrenheit. As a result, they're no longer considered safe for kids. A better alternative… glow sticks. They can be just as fun, and kids will take cues from adults if they're enthusiastic about glow stick activities.
Enjoy your time with your friends and family this summer. Just be on the safe side!
---