August is Breastfeeding Month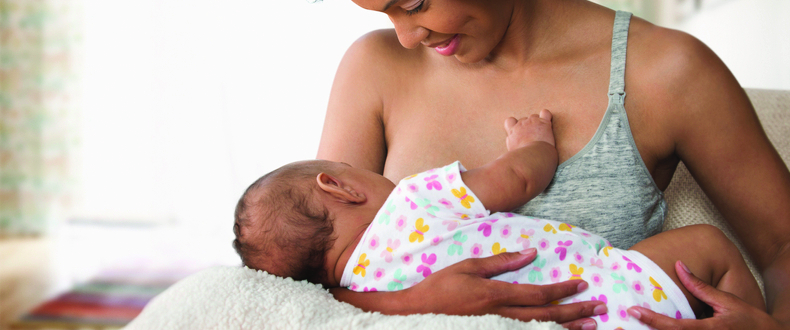 The Art of Breastfeeding: Support and Tips
For new moms, breastfeeding can be like learning to ride a bicycle – with training wheels at first and then the help of someone holding on to the seat. Sentara maternity team members and experienced lactation consultants are available to provide support to moms and their newborns.

"While breastfeeding is the most natural way to feed your baby, it is also a learning experience and we want to help," says Jessica Schafer, a lactation consultant at the Family Maternity Center at Sentara Leigh Hospital.
How does breastfeeding benefit moms?
Breastfeeding helps create a special bond between mom and baby.
Breast milk is free and is always available at the correct temperature.
Breastfeeding helps the uterus return to its size before pregnancy.
Breastfeeding lowers the risk of developing type 2 diabetes, osteoporosis, rheumatoid arthritis, cardiovascular disease, and some forms of cancer later in life.
How does breastfeeding benefit baby?
The first milk, called colostrum, helps baby's digestive system function better.
Special types of proteins in breastmilk, called antibodies, help the baby fight off infections.
Breastfed babies are less likely to develop asthma, allergies, obesity, or type 2 diabetes.
Breast milk lowers the risk for sudden infant death syndrome (SIDS).
Nutrients in breast milk are better for babies compared to nutrients in infant formula.
Breast milk improves brain development.
Breastfeeding Tips
The American Academy of Pediatrics (AAP) recommends exclusive breastfeeding for the first six months, with solids being introduced then and breastfeeding continuing through to one year old.

Here are five tips to help you on your breastfeeding journey:
1. Feed As Early As Possible: The first few hours are important – it's often called the Golden Hour. This time helps you bond with your baby and most hospitals allow for immediate breastfeeding time as long as your baby is medically stable. Having a caesarian section birth should not be an issue for early breastfeeding if mom and baby are stable shortly after birth.
2. Relax: Understandably, this can be difficult, but babies can sense stress and may not feed as well. Create a calm environment. Consider reducing visitors while you are learning to feed your new baby.
3. Feed Often: How much is enough when you breast feed? How do you know when your baby is properly nourished? Your maternity nurses and lactation consultants will be available often to help you read your baby's signals and ensure things are going well with breastfeeding. Make a list of questions for your lactation consultant and remember that each experience is different. At birth, most babies will want to feed every 60-90 minutes and want to eat 5-20 minutes per side. Monitoring output is a great way to gauge adequate feeding.
This is the stage that many moms are tempted to give a bottle because they think the baby is starving because they want to feed all the time. Hang in there! Your baby is getting nutrient-dense colostrum and is trying to stimulate your real milk to come in.

*Hot Tip: Need help tracking feeding? There are great apps where you can monitor everything from feeding sessions to your baby's voids to time at breast.

4. Avoid Binky or Bottle Use – If Possible: You need to learn your baby's hunger clues – such as moving their eyes, sucking on their hands, lip smacking, grimacing, whimpering or crying. Every child is different in how they communicate, but knowing these cues will make the feeding session that much more successful.

Binkies can be used after three to four weeks after breastfeeding has been established and you've learned your baby's hunger clues. Avoiding bottles is crucial because the baby needs to stimulate your milk to come in.

*Note: In some cases, bottles are needed. Your pediatrician will discuss this with you and show you ways to do it without upsetting the breastfeeding process.

5. Ask For Help: After leaving the hospital, your pediatrician is a great resource for breastfeeding issues, but a lactation consultant is often invaluable. They can help with latching issues and recommend diet changes for mom and/or herbal remedies to boost mom's supply, etc. Sentara lactation specialists are also available for outpatient lactation appointments, and you should receive information on contacting them with your discharge instructions.

Having a support system and asking for help will make this journey much more enjoyable and successful. Remember that breastfeeding is not an all-or-nothing proposition. Define your own success. Any breast milk is wonderful and increases your baby's health.

Joan Younger, author of the AAP July 2022 report about breastfeeding says, "Families deserve nonjudgmental support, information and help to guide them in feeding their infant."

"We also understand there are situations when moms are unable to exclusively breastfeed and may need to supplement with formula. It's such a personal decision and we remind moms that 'fed is best' and be kind to yourself," says Schafer.
Breastfeeding Support at Sentara
Our maternity staff and certified lactation consultants offer comprehensive breastfeeding education and support. In addition to in-hospital breastfeeding support, we also offer outpatient lactation appointments and breastfeeding classes at many locations. Find a breastfeeding class in your area.
By: Amy Sandoval
Learn More
Our newest guidebook for mothers.
---