Sentara Offers First da Vinci Robotic Surgical System in Williamsburg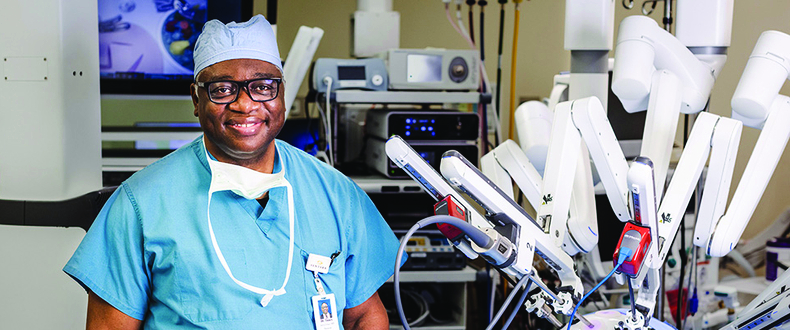 <--Brightcove Video 6336139282112 Goes Here
Expanding on their offerings of the latest healthcare technologies, Sentara Williamsburg Regional Medical Center enhanced their surgical options with the addition of the da Vinci Robotic Surgical System. This groundbreaking robotic system is the first of its kind in Williamsburg. "I am so excited that we're able to bring this new technology to the Williamsburg community," said Dr. Terryl Times, General Surgeon at Sentara Surgery Specialists. "The da Vinci system gives the surgeon pretty much total control over the operating environment."
What are the benefits of robotic surgery?
Robotic surgery enables surgeons to operate through tiny incisions, providing a safe and less-invasive alternative to open surgery. Smaller incisions mean faster healing time, allowing patients to return to normal activity more quickly. The da Vinci Surgical System enables efficient access throughout the abdomen or pelvis while your surgeon remains 100% in control. Your surgeon is able to be more precise, using significantly smaller surgical instruments while operating inside a patient's body.
How does the da Vinci system work?
The robotic surgery system delivers 3D high-definition views, giving your surgeon a crystal clear view of the surgical area that is magnified 10 times beyond what is visible to the human eye. "One important thing to know about robotic surgery is that the robot is not doing any of the surgery by itself. It's completely under the control of the surgeon," said Dr. Joseph Habibi, Urology Specialist at Sentara Williamsburg Regional Medical Center. "It does improve the accuracy of some of those movements, if for no other reason than improved visualization." Using very small instruments that move like a human hand, but with a far greater range of motion, the da Vinci System's built-in-tremor filtration technology helps your surgeon move each instrument with smooth precision.
What types of surgeries can be done?
Robotic surgical procedures are performed for a wide range of conditions within the following specialties: urology, general surgery, cardiac surgery, and gynecology.
"Dr. James Daniels and I have been performing various hernia surgeries, gallbladder and colon surgeries," said Dr. Terry Times. "These surgeries are easily adapted to the da Vinci robotic model."
About Sentara Williamsburg
Sentara Williamsburg Regional Medical Center is a 145-bed facility featuring the latest healthcare technologies, serving Williamsburg and the surrounding community.
The hospital is a Certified Primary Stroke Center and STEMI Center and offers a full range of medical care from emergency heart catheterization to all-inclusive maternity care where patients may stay in one room, as well as a Gold Level Geriatric ER.
Sentara Williamsburg Regional Medical Center provides advanced imaging and "smart" operating rooms. The hospital has achieved Magnet® recognition, the nation's high honor for excellence in nursing. It is one of the few hospitals in the nation that has achieved a consecutive Leapfrog A safety rating.
---