Backpacks 101: Fitting and safety precautions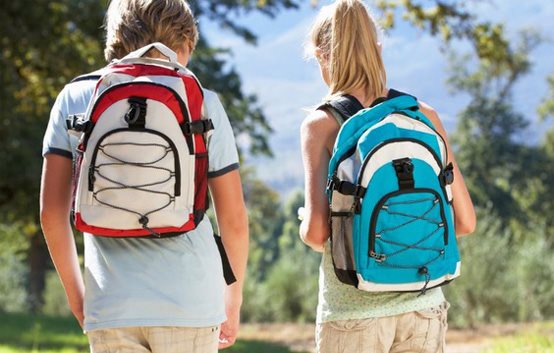 With the new school year upon us, back-to-school shopping is in full swing. That may mean picking out a new backpack - especially if the backpack from last year strains your child's back.
When you've lifted your kid's backpack, chances are you've been shocked by how heavy it is. Kids often carry as much as a quarter of their body weight - 25 pounds for a 100-pound child.
However, American Chiropractic Association (ACA) recommends a backpack weigh no more than 5 percent to 10 percent of a child's weight. That would be 5 to 10 pounds for a child who weighs 100 pounds.
What should I look for in a backpack?
Hold off on buying that cute (but flimsy) character backpack. The National Safety Council offers many helpful tips to help parents and kids select a sturdy backpack that's better for their backs and likely will last longer.
Look for these features:
Size: A backpack should not be wider than your child's torso or hang more than 4 inches below the waist
Straps: Padded, adjustable shoulder straps distribute the weight in the backpack. Waist and chest straps spread the weight of the backpack more evenly across your child's back
Padding: A padded back keeps contents inside the backpack from poking into your child's back
Multiple compartments: Help position weight more effectively
Reflective material: Allows other to see your child better.
Avoiding back pain with a backpack
Please remind your child to use both straps. A backpack dangling from one strap on the shoulder can cause spinal misalignment and pain.
If your child has red marks on their shoulders from the backpack, back pain or tingling or numbness in the arms or hands, please make an appointment to talk to your pediatrician.
If you consistently notice a backpack that is too heavy for your children, talk to them about leaving more items at school in a locker, cubby or desk. Talk to your child's teacher if none of those are an option.
Happy shopping!
By: Lisa Smith
---