COVID Testing: Are at-home tests effective?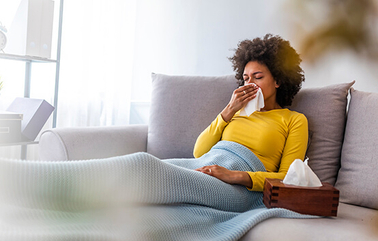 COVID-19 home test kits have made the latest surge of COVID cases less complicated to diagnose, giving people the opportunity to take steps more quickly if they are positive.
During the first few weeks of the pandemic in 2020, most people went to the emergency department for a COVID test. Tests were scarce, and the virus was so new to healthcare providers and patients that protocols were still being developed.
As emergency room teams try to keep spaces open for sick patients, whether they have COVID or another critical condition, hospitals are urging patients to take tests elsewhere. You can get tests at clinics, urgent care, primary care offices, drive-thru testing or various sites run by the health department.
And now, you can buy at-home test kits online or from your local drug store.
Testing Options
You've probably heard of "rapid tests," which are antigen tests that give you results in less than 15 minutes.
The other type of test is a PCR (polymerase chain reaction) test, which is a molecular test and falls under the umbrella of nucleic acid amplification tests (NAATs). These tests usually take a few days for results because they are sent to a lab.
Both types of viral tests check specimens from your nose or mouth to determine if you are currently infected with the virus that causes COVID-19.
Antigen tests
Antigen tests work by detecting specific proteins in the virus. The nose is swabbed to get a sample and mixed with a solution, producing results in minutes.
"A positive antigen test is very reliable, but it has a higher possibility of a false negative," says Andrea Chapman, a Sentara Healthcare infection preventionist. "If you have COVID symptoms, are unvaccinated and the test is negative, it would be appropriate to take a nucleic acid test or multiple antigen tests in a row."
Antigen tests are the types of tests sold in home test kits. They are also used in clinics and other testing sites.
"Self-collection kits are only as good as the sample you collect," Chapman advises. "Follow the instructions of the package insert to the letter and really try to get a good sample so you can be as confident in the result as you can be."
If you test positive, please call your primary care provider for care instructions.
To make sure you pick out an effective test, the FDA has created a list of approved home COVID tests.
Nucleic acid amplification tests (NAATs)
These tests are also known as molecular tests. They look for virus DNA using a lab technique called polymerase chain reaction (PCR).
A fluid sample is collected with a nasal swab or a throat swab, or you may spit into a tube to provide a saliva sample. If tests are analyzed in a hospital setting with an on-site lab, you can get the results within a few hours. However, in most outpatient testing sites, you will have to wait a few days for the results while a lab processes them.
Because PCR tests look at genetic material, they are more definitive than an antigen test. For this reason, if patients receive a negative result from an antigen test but have COVID symptoms, their provider may recommend a PCR test.
What to do if you are exposed to COVID?
If you are concerned that you have been exposed to COVID or are experiencing symptoms, please follow the CDC guidelines about testing and quarantine.
If you have questions about a positive COVID test or diagnosis, please get in touch with your primary care provider.
By: Lisa Marinelli Smith
---