Diagnosing Alzheimer's and dementia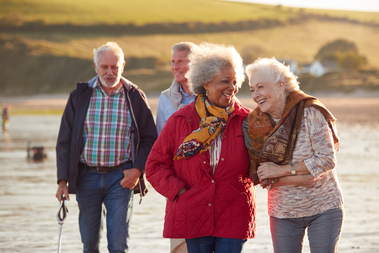 While many people interchange the terms "Alzheimer's disease" and "dementia," they are not the same.
Alzheimer's disease, a degenerative and progressive brain condition, is the most common form of dementia, affecting about four of every 1,000 people ages 65 to 74. Microscopic changes in the brain begin long before the first signs of memory loss, but as damage to brain cells spreads and cells die, irreversible changes occur in the brain for someone with Alzheimer's.
Not everyone with dementia has Alzheimer's disease, explains Melissa Hunter, PsyD, a licensed clinical psychologist for Sentara Neurology Specialists. Many factors and conditions can cause dementia.
"Dementia isn't a specific disease, but rather an umbrella term that encompasses a decline in thinking skills that impacts a person's ability to manage day-to-day affairs at the same level they could in the past," says Hunter, who, along with neuropsychologist Bethany Gilstrap, PsyD, run the memory clinic at Sentara Neurology Specialists.
Types of dementia
Alzheimer's disease accounts for 60 to 80 percent of dementia cases. Other forms of dementia include:
Creutzfeldt-Jakob disease - Caused when a rare protein changes brain cells, leading to a rapid decline in cognitive skills
Frontotemporal - Occurs when nerve cells in the frontal and temporal lobes of the brain are lost
Lewy body - Abnormal protein particles that accumulate in the brain, forming deposits that cause a form of dementia
Parkinson's disease - Most people with Parkinson's disease have Lewy bodies in their brain
Vascular - Caused by blocked or reduced blood flow to the brain, depriving areas of oxygen and nutrients, such as a stroke
Dementia caused by Alzheimer's disease and many other conditions cannot be reversed. But some conditions that cause dementia can be treated so cognitive function improves. This includes cognitive changes caused by:
Depression

Excess use of alcohol

Medication side effects

Thyroid problems

Vitamin deficiencies
Diagnosing Alzheimer's disease
To get an accurate picture of a people's cognitive abilities, Hunter and Gilstrap work with other specialists, such as neurologists and radiologists, to assess patients.
"Alzheimer's disease is ultimately a diagnosis of exclusion, meaning we rule out other reasons the person may be experiencing cognitive problems," Gilstrap explains.
The most common early symptom of Alzheimer's is difficulty remembering newly learned information. Other symptoms include:
Changes in mood and personality
Challenges solving problems
Confusion with time and place
Difficulty completing familiar tasks
Misplacing things and not being able to retract steps to find them
New problems with words in speaking and writing
Poor judgment
Trouble understanding images and spatial relationships
Neuropsychologists conduct comprehensive testing that measures areas such as memory and learning, language skills, attention/concentration and social skills.
How is Alzheimer's treated?
Sentara, like other healthcare organizations, participates in clinical trials with the hope of one day finding effective medications to treat the disease. Unfortunately, no medications can stop the progression completely now, but doctors can prescribe medications that temporarily help neurons in the brain communicate with each other.
Hunter and Gilstrap say other lifestyle factors can also slow the progression of Alzheimer's.
"We focus on the quality of life and independence," Hunter says. "Modifiable factors such as
improving sleep and combatting depression helps improve cognitive function."
People can also benefit from physical therapy, occupational therapy, speech therapy, a healthy diet and social interaction.
"We also believe strongly in the heart and brain connection," Hunter says. "There's a clear connection between cardiovascular health and brain health.
If you have dementia or Alzheimer's concerns, you can connect with a Sentara neurology or neurosurgery specialist at 1-877-310-8713.
By: Lisa Marinelli Smith
---