Ensuring a healthy pregnancy with gestational diabetes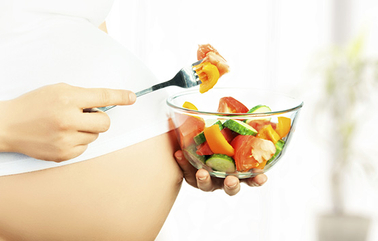 There are a number of complications in pregnancy but the most common is gestational diabetes, affecting seven to 14 percent of all pregnancies in the U.S. This puts the moms at risk for developing high blood pressure, pre-term delivery, cesarean section and difficulties during deliveries. Babies that are born to mothers with gestational diabetes can be very large and even have hypoglycemia. Women who have had gestational diabetes are a risk for having this in a future pregnancy, and developing type 2 diabetes within 10 years of delivery.
How can you be diagnosed with gestational diabetes? Through blood work. These are normal blood glucose readings during pregnancy:
Fasting: 95 mg or less
1 hour after eating: 140 mg or less
2 hours after eating: 120 mg or less
How is gestational diabetes treated? It's a three-prong approach.
Healthy food choices
Daily walk or exercise
Healthy weight gain
What about the carbohydrate foods when you have gestational diabetes? A modest amount is recommended to avoid glucose spikes. Carbohydrate intake should comprise just 45 percent of total calories. It is suggested that a smaller intake of carbs be included at breakfast – approximately 30 grams total. It can help to limit fruit and milk intake at breakfast. More carbohydrates are okay at lunch and dinner, but it sure can help to select less processed carbs with a higher fiber content. And of course, protein at each meal is important too.
Breakfast menu ideas that are approximately 30 grams carbohydrate:
Egg and cheese on toasted multi-grain English muffin
Cooked rolled oats made with water; chopped pecans added before serving
Leftover beef-vegetables stew
Women who have been diagnosed with gestational diabetes need to be screened for type 2 diabetes between 6-12 weeks after delivery and then every 1-3 years after delivery. Maintaining healthy lifestyle habits after the baby arrives will hopefully keep type 2 diabetes out of the picture.
__
About the Author
Rita Smith is a Registered Dietitian and Certified Diabetes Educator. She's been working in the field of nutrition and disease prevention for more than 35 years and currently works at Sentara Martha Jefferson Hospital in Charlottesville, Va. Each week, Rita provides nutrition counseling to clients who have a variety of disorders or diseases including high cholesterol, high blood pressure, diabetes, celiac disease, irritable bowel syndrome, gastroparesis and weight management. For these clients, food choices can help them manage their health problems.
By: Rita P. Smith, MS, RD, CDE, Sentara Martha Jefferson Hospital
---