How to Create a Summer Safety Kit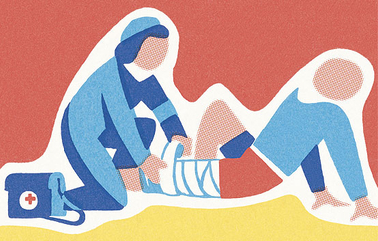 A well prepared summer first aid kit keeps your family having fun in the sun, on the beach, over hiking trails, or wherever you adventure.
Start with a store-bought pre-made kit already stocked with adhesive bandages, gauze, tape and small packets of antibiotic ointment; it is cost effective.
Put that kit in a small comfortable back pack to take on trips. Hang it visibly in the closet as reminder.
CAUTION: Do not leave it in your car in the summer. The heat can melt the plastic adhesives and deactivate the chemicals.
Look inside the premade kit for anything that could be missing.
Consider adding:
1% hydrocortisone ointment
Calamine lotion
Liquid bandage – A medical "nail polish" or spray that puts a water proof seal on small cuts on the skin. This is great for trips involving sand and water.
Water bottle – For irrigation of wounds.
Electrolyte packs – Add this in your water bottle if you need more oral hydration than you brought.
Epi Pen and albuterol inhaler – Bring this if someone has an underlying condition for anaphylaxis and asthma.
Ibuprofen or acetaminophen chew tabs – This can also be dosed for adults and is less heavy and bulky than carrying the liquid bottles.
Bug spray with 30% DEET – This spray works against mosquitos and ticks.
Ice packs – Purchase the packs that activate when twisted. This can help with acute sprains, sunburn and over-heating.
Oxymetazoline hcl nasal solution – Use intra-nasally to help nosebleeds.
LED flashlight/headlight - Helps in the dark, but also if you need to remove ticks or splinters.
Tweezers, scissors, magnifying glass, alcohol wipes – To help with the above.
ACE wrap & finger splints
Inexpensive plastic rain capes – These can keep you dry during summer storms, but can also be placed on the ground as a clean surface to work on an injury.
Plan ahead for good hydration during the summer. When exercising in hot conditions, drink 4- 8 oz of cold electrolytes or sports drinks every 15-20 min. This means drinking 2-3 cups cold liquid every hour. Control condensation by having drinks partially frozen and in a zip-lock bag before placing them in your back pack.
I wish your family lots of fun and safe adventures this summer.
Dr. Fanya Seagull is a Sentara Medical Group board-certified Pediatrician. Her office is at Sentara Pediatric Physicians, 2301 General Booth Blvd, Suite B. (between General Booth and Nimmo Parkway) in Virginia Beach. She is also a Mom of two children under age 10. In her free time, she enjoys cooking, travel, and swimming and tending her colorful garden.
To schedule an appointment with Dr. Seagull, schedule online here or call 757-395-1920.
By: Fanya N. Seagull, M.D., Sentara Pediatric Physicians
---