Vascular Disease 101: Blood Vessel Problems & How to Manage Them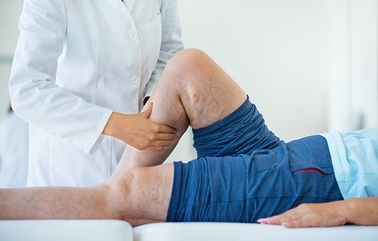 About 60,000 miles of blood vessels run through your body. You may not give them much thought. But your blood vessels play an important role in delivering nutrients and oxygen to your tissues. And diseases that affect them can be serious.
"Most people don't understand vascular disease," says Emily Reardon, M.D., a vascular surgeon at Sentara Vascular Specialists. Yet these problems are common. They're also treatable.
Here's what you should know about vascular disease.
What Is Vascular Disease?
Many different types of problems can affect the blood vessels. "Vascular disease is very broad," Dr. Reardon explains. But most vascular problems fall into one of a few common categories:
Peripheral Artery Disease Peripheral artery disease (PAD)
Peripheral artery disease (PAD) occurs when fatty plaque builds up in the blood vessels of the legs. It can block blood flow, causing pain in the legs or feet. It can also cause wounds that don't heal.
"In extreme cases, PAD can lead to limb loss," Dr. Reardon says. "By catching symptoms early, we can manage the condition and prevent that outcome."
Carotid Artery Disease
Carotid artery disease occurs when plaque builds up in an artery in the neck. That can block blood flow to the brain, causing a stroke. "Managing carotid artery disease can help prevent stroke," Dr. Reardon says.
Varicose Veins
Varicose veins are bulging, twisted-looking veins that usually form in the legs. They often look bluish and are visible just under the skin. Sometimes, they can be painful, bleed or cause blood clots.
In other cases, they're harmless-but some people are bothered by their appearance. "At the Vein Center of Virginia, we treat all types of varicose veins, whether they are causing symptoms or are just cosmetic," Dr. Reardon says.
Deep Vein Thrombosis (Blood Clots)
A deep vein thrombosis (DVT) is a blood clot that forms in the deep veins, usually in the legs. If part of the clot breaks off, it can travel to the lungs and cause a dangerous blockage called a pulmonary embolism. Treating DVT can help prevent those serious outcomes.
Understanding Vascular Disease Risks
Vascular diseases can be serious, but you can take steps to prevent them. The biggest risk factors for severe vascular diseases are:
Smoking
High blood pressure
High cholesterol
Diabetes
Smoking is especially bad for the blood vessels, Dr. Reardon says. "Patients that smoke cigarettes have two to four times greater risk of vascular disease." But quitting can help lower your risk.
Taking medications or other steps to improve your health can also prevent vascular disease. "Managing diabetes, high blood pressure and high cholesterol can significantly decrease your risk," Dr. Reardon explains.
Vascular Disease Treatment
If you have symptoms or are at risk of vascular disease, your first stop should be your primary care doctor, Dr. Reardon says. "Primary care doctors can screen for many common vascular problems."
If your doctor spots a problem, they will refer you to a specialist. Vascular surgeons specialize in managing diseases of the blood vessels. Despite their name, vascular surgeons don't just do surgery. They also help manage vascular diseases with medications and track your symptoms over time. If your condition gets worse, they can help you figure out the best way to treat it-including surgery, when needed.
Vascular surgeons can treat many blood vessel problems with traditional surgery. Many also have training in endovascular surgery. Endovascular surgery is a minimally-invasive option that uses a tiny wire inserted into the blood vessels. Using X-rays to guide them, vascular surgeons then operate from inside the blood vessel to treat the problem. "Endovascular surgeries are usually outpatient procedures, and patients recover much more quickly than with traditional surgery," Dr. Reardon says.
As endovascular technologies have gotten better, these procedures have become more common. "We do as many as 60 percent to 75 percent of vascular procedures using endovascular techniques," she says.
Sentara Vascular Specialists
Sentara Vascular Specialists is one of the largest groups of vascular specialists in the area, with vascular surgeons trained in managing all types of blood vessel problems. "We have a wide variety of experience, and we offer the newest and greatest technologies and tools," Dr. Reardon says.
If you've been diagnosed with a vascular problem or referred to a vascular surgeon, we can help. Learn more about Sentara Vascular Specialists and find a location near you.
By: Emily Reardon, M.D.
---