Self-Breast Exams and Early Detection Have Lifesaving Impact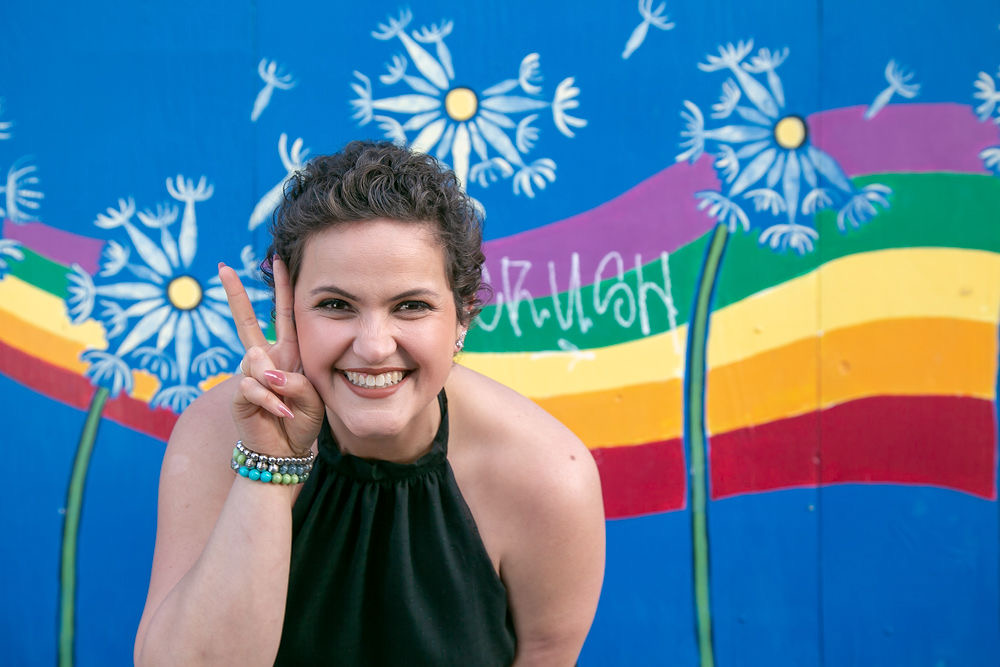 Jackie Mierle grew up in Williamsburg, Virginia, with her parents, older sister, and older brother. For most of her life, she was unaware of the deep-rooted history of breast and ovarian cancer in her family. In 2014, her mother was diagnosed with breast cancer due to the BRCA2 mutation. Jackie also knew that her maternal grandmother had faced a similar diagnosis, and later, she discovered that her paternal aunts had battled ovarian and breast cancer as well. Jackie realized this was a high-risk health concern for her. Armed with this knowledge, she and her older sister prioritized regular screenings for the BRCA2 mutation.
Jackie's breast cancer journey began with a series of medical encounters that gradually unveiled her diagnosis. It all started when she noticed a cyst-like dimple on her right breast during a routine self-examination. Although she initially dismissed it as a minor concern, her family's history of breast cancer urged her to seek medical advice. Having just received a vaccine, her doctor recommended she wait a bit before extensive evaluation. Jackie's proactive approach led to a mammogram and subsequent biopsies for the cyst.
During her mammogram and ultrasound, Jackie's care providers ensured they addressed any other concerns bothering her. She mentioned a spot on her left breast that had been causing pain. It was this simple follow-up question that ultimately led to Jackie's diagnosis. Had she not mentioned this additional concern on the opposite side of her initial check-up, her cancer might have gone unnoticed. At just 30 years old, Jackie was diagnosed with early-stage breast cancer, testing positive for both BRCA1 and CHEK2 mutations.
Following her diagnosis, Jackie faced the challenge of creating a treatment plan. This was a tough time as she also had to consider her lifestyle and aspirations for the future. She chose chemotherapy before undergoing surgery, allowing her Sentara care team to assess her body's response to treatment.
Given the urgency of starting chemotherapy, Jackie chose to undergo fertility preservation. She sought assistance from a fertility clinic, navigating a condensed timeline that required quick decisions and actions. Within days of her egg retrieval, Jackie began neoadjuvant chemotherapywith Virginia Oncology Associates.
"My nurses were incredible," Jackie says. "Everybody was always so great to work with. Nobody made me feel like I had to explain why I was there or what I needed, they just helped." Soon after finishing chemotherapy, Jackie underwent a bilateral mastectomy, performed by Dr.Times at Sentara Surgery Specialists, with reconstruction carried out by Dr. Emory at Plastic Surgery Specialists. During this time, she also received Herceptin treatment.
In her recovery process, Jackie found invaluable support from Here for the Girls, an organization dedicated to aiding women affected by breast cancer. She joined their support groups, seeking solace and understanding among women who shared her experiences. Her participation eventually led her to become a Calendar Ambassador and Board Member, providing essential support to other women navigating similar challenges.
Jackie also felt supported by sharing her journey and experiences on social media. Through her advocacy, she has not only raised awareness about breast cancer but also forged connections with other survivors. Her family and friends played a vital role in her journey, offering emotional support, understanding, and a listening ear when needed most.
Today, Jackie's life is a testament to resilience and adaptation. While she has faced challenges such as weight gain and lingering physical effects from treatment, she remains determined to prioritize happiness, family, and relationships. Her experience has reshaped her perspective on life, emphasizing the value of living in the present moment. Jackie also continues to explore her interests, including hiking and golfing and is venturing into candle-making as a creative outlet. Despite having relocated to Rhode Island, Jackie maintains a strong connection with her Sentara care team, where she continues to receive follow-up care from her oncologist, Dr. Hepburn at Virginia Oncology Specialists. The familiarity, trust, and support she experiences with her medical professionals, including her nurse navigator, Katina Marrow at Sentara Williamsburg Comprehensive Breast Center, reaffirm her decision to continue her care there.
Jackie's journey reminds us that breast cancer knows no bounds—it can affect individuals of any age, gender, or background. To those who have recently received a breast cancer diagnosis, she offers these words of encouragement: "You are not alone, and you are stronger than you know. Embrace your support system, lean on your loved ones, and never underestimate the power of your own resilience."
Jackie's experience highlights the importance of early detection through self-breast examinations and regular check-ups. Women who may be at a greater risk of developing breast cancer can undergo a comprehensive assessment through the High-Risk Breast Program offered at several Sentara hospitals. By knowing your family's medical history, openly discussing genetic risks, and seeking medical advice when needed, you can take proactive steps to safeguard your health.
By: D'Asia Lasala
---