Kind-hearted Patient Shares Health Information to Advance Treatment of Pulmonary Hypertension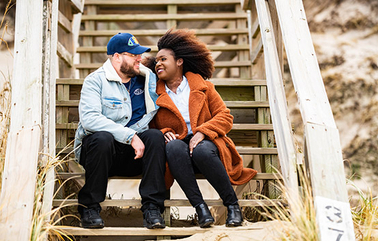 Elizabeth Lloyd filled her free time during college and in the working world with sports. She ran four times a week, played in an adult hockey league, and participated in aerobics and weight training.
That's why she was shocked when she suddenly had trouble breathing while running outdoors in the summer of 2018.
"I couldn't even make it a block without gasping for air," recalls Elizabeth, who lives in Virginia Beach and was 28 at the time. "I couldn't understand it because I had just run the other day. So, I tried a couple of days later, and I was still having trouble breathing."
Searching for a diagnosis
Elizabeth, a pharmacy tech at the time, went to the Sentara Leigh Hospital emergency department and was admitted. She had also started to swell with water weight. Doctors were puzzled.
"I saw every specialist imaginable," says Elizabeth, who now works as a referral coordinator at a urology clinic. "They kept crossing potential conditions off a dry erase board in my room."
Eventually, a rheumatologist put the pieces together. Elizabeth had seen her primary care doctor after discovering a rash on her face and hands in 2016. Using her skin condition as a clue, the rheumatologist determined that Elizabeth had scleroderma. This rare autoimmune disease affects many systems within the body, including hardening or thickening skin, as well as lung and heart concerns.
Because of her respiratory issues, Elizabeth immediately saw a pulmonologist and cardiologist. Sentara pulmonologist Michael Eggert, MD, diagnosed Elizabeth with pulmonary arterial hypertension (PAH), which can develop because of scleroderma. Dr. Eggert has been her pulmonologist ever since.
"While it took some time for Elizabeth to get used to her diagnosis, she is always asking about "what's next," Dr. Eggert remarks. "She has not let PAH stop her in any part of her life, professionally or personally. Elizabeth is a pleasure to work with, as she refuses to let it get her down."
Learning to live with PAH
PAH is a progressive condition that causes tiny arteries in the lungs to thicken and narrow. As a result, the heart must work harder to pump blood throughout the constricted arteries. This leads to high blood pressure in the lungs. Only about 30,000 people in the U.S. have been diagnosed with PAH, according to the Pulmonary Hypertension Association.
After Elizabeth was released from the hospital, she began to mourn her old life, especially since exercising was such an integral part of it. Under doctor's orders, she would need to scale back.
"You don't expect something this serious to happen when you are so young," Elizabeth explains. "Now that I am getting to the other side of it, I am starting to get on the elliptical and bike. It's not the pace that I'm used to, but it's easier to stay active this way and not put as much stress on the body."
Elizabeth takes about a dozen medications to manage PAH, side effects and symptoms of scleroderma. PAH causes severe shortness of breath, fatigue and reduced energy. This can affect her ability to perform day-to-day activities, which has been challenging for Elizabeth.
New life as a newlywed
Elizabeth experienced a joyful change in her life when she married her husband Blake on Oct. 30, 2021. She met Blake in 2019, shortly before she was hospitalized for emergency heart surgery to alleviate fluid buildup around her heart. While hospitalized, she also learned that her sister had passed away unexpectedly from complications of sickle cell anemia.
Blake helped her through this distressing time in her life and has been there ever since. He's patient, supportive, kind and encourages Elizabeth to live her life to the fullest.
"Meeting Blake and having him accept me completely was so special," Elizabeth shares. "I prayed for someone like him because I didn't think I was ever going to meet anyone who would love me for me."
Joining the pulmonary arterial hypertension (PAH) registry
To advance research with the rare disease, Elizabeth felt it was important to share her health records with a registry sponsored by the Pulmonary Hypertension Association. Doctors and researchers use the registry to evaluate trends and patterns to determine which treatments work best.
"Elizabeth was immediately interested in the potential for the use of her medical data to define new treatment pathways for patients with connective tissue disease and pulmonary hypertension," Dr. Eggert says. "She regularly contributes data to the PHAR registry, as she continues to help her fellow patients any way she can."
The data includes the medication she's taking, any test results, details about any hospitalization and her overall function and status, says Melinda Bullivant, clinical research coordinator at Sentara Health Research Center.
"Elizabeth is paying it forward," Bullivant adds.
Elizabeth hopes joining the registry and sharing her health information will assist future patients struggling with the diagnosis and disease.
"I would love for 30 years down the road for someone diagnosed with the same disease to have a better quality of life," Elizabeth hopes. "At the end of the day, that's the goal of medicine. Someone did that for me. Why not do it for someone else?"
---