Knee replacement surgery: 'One of the best decisions I've made'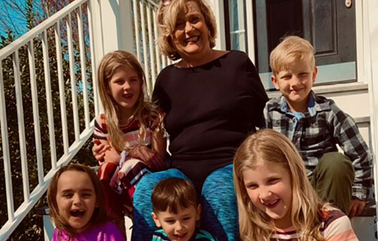 COVID precautions, personal attention gave patient confidence
When throbbing knees increasingly made everyday tasks, like going up stairs, tedious and painful, Sandy Moore of Gloucester decided it was time to consider knee replacement surgery.
Sandy's right knee started bothering her in 2012, and the left knee began giving her trouble a year later.
"One of the things that really impacted me was when my grandchildren would ask me to do things with them, and I could't," says Sandy, a retired health care administrator and grandmother of six. "Either I couldn't walk that long or stand that long. It was really having a negative impact on me."
Path toward knee surgery
Sandy started seeing Stephen H. Cummings, M.D., an orthopedic surgeon at Sentara Williamsburg Regional Medical Center in 2014 for her knee pain. For several years, she received steroid injections in her knees to control pain and inflammation.
"I had shots every three months, and, eventually, they were not lasting every three months," says Sandy, 67.
Sandy was reluctant to jump into surgery right away, and Dr. Cummings told her she could delay a knee replacement as long as the injections worked for her. By the end of 2019, Sandy decided it was time for knee replacement surgery.
"It was having such a negative impact on me," Sandy says of her knee pain.
Sandy had surgery to replace her right knee, the worse of the two knees, at the SentaraOrthoJoint Center® in Williamsburg in January 2020 before the COVID-19 pandemic hit. She felt well-prepared after attending pre-op classes and doing her pre-op exercises.
After surgery, Sandy stayed in the hospital for two nights. She attended group physical therapy and occupational therapy to adjust to her new knee. Home health and home PT followed.
Second knee surgery during COVID
Sandy hoped she could alleviate some of the strain on her left knee with the right knee stronger after surgery. However, when the pain in her left knee persisted, she decided to see Dr. Cummings about a second knee replacement surgery.
Only by this time, COVID-19 had struck, prompting hospitals to develop new procedures to keep patients and staff safe.
At the time, Sentara Williamsburg Medical Center, along with other Sentara hospitals, restricted family members from going to the hospital with the patient. However, Sandy, who has lost her hearing because of a medical condition, relies on hearing aids.
"Once I take my hearing aids out, I don't know what's going on," says Sandy, who requested that her husband, Charles, be with her before and after surgery.
A Sentara orthopedic nurse navigator took the Moore's concerns to administrators, who allowed Charles to accompany his wife during the August 2020 procedure. Because of COVID, Sandy stayed only one night at the OrthoJoint Center following surgery had physical therapy and occupational therapy one on one in her hospital room.
Sandy, who also copes with asthma, felt safe with all the precautions taken by the hospital.
"I had no concerns about having a surgical procedure during a pandemic," says Sandy. "I had a COVID screening test before surgery. Everyone wore masks and gloves. I'm not burying my head in the sand about COVID, but I didn't feel in jeopardy when I had my surgery."
Road to recovery
These days, Sandy attends PT and diligently does her home exercises. She's able to get out of bed without pain and walk up and down the stairs without starting and stopping.
Some days, she ices her knees when they're irritated, but her new knees have given her back the ability to ride her bike again and participate in more activities with her grandchildren - like walking and playing in the sand - unassisted - and taking hikes with them at a state park.
"Before my knee replacements, I would have been sitting in the car and missed all of this," says Sandy. "I'm very pleased with the results. It's definitely one of the best decisions I've made."
---