Migraine Clinical Trials Drastically Improve Quality of Life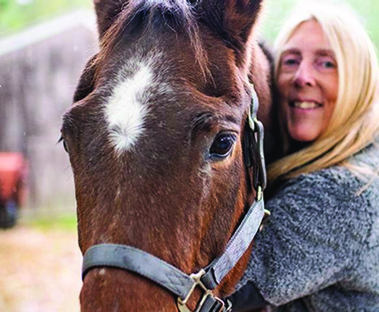 Amy Morgan experienced her first migraine when she was 18 on a family vacation in Richmond. A thunderstorm triggered the terrible headache, marking the beginning of frustrating, ongoing medical concerns.
Over the years, Amy, 60, of Chesapeake, has found that weather isn't the only factor that induces migraines. Stress, food with MSG, processed meats, alcohol, and certain smells like perfume are all triggers.
"I am sensitive to a lot of things," explains Amy, a medical secretary for Atlantic Anesthesia in Virginia Beach. "I know when my headaches are coming. I get an aura. I see a light and fissures go through my eyes. When that happens, I know within an hour I will get a headache."
Trying to control migraines
Migraines are a neurological condition that cause severe throbbing pain or a pulsing sensation, usually on one side of the head. Along with the headache, people also may experience nausea, vomiting, dizziness, and extreme sensitivity to light and sound.
Migraine attacks can last for hours to days if they aren't treated, and the pain can be so severe that it interferes with daily activities. About 12 percent of the U.S. population suffers from migraines, according to the Migraine Research Foundation.
Neurologists have prescribed different medications over the years to help with Amy's migraines. Some work as a preventative drug. Others relieve headaches once they've begun. Patients can take both at the same time.
While the medications were effective, nothing took the disruptive headaches away completely, and Amy often had to change plans or leave work to get in bed in a dark room while the medication attempted to take the edge off.
Amy also found stress relief at her horse farm, "This L Do Farm," in the Blackwater area of Virginia Beach. She and her friend planned and built it from the ground up, beginning around 2004. An exercise enthusiast, Amy also walks 3 to 5 miles a day.
Job stress leads to life-changing migraine
Before Amy's job as a medical secretary, she worked in the automotive industry for decades. Her family is full of car enthusiasts, and they also enjoy watching car racing. Amy worked with her brother at a body shop where she was a dispatcher and insurance adjuster. Amy also met her husband of 34 years, John, when they worked at the body shop together.
As an insurance adjuster, Amy was required to view car damage, negotiate with attorneys and look at pictures from accident sites, some of which were fatal. The heartache she witnessed took a toll on her. Then, one day at work, she began to have what she thought were stroke symptoms.
"My hand was tingling and numb," she recalls of the incident. "I knew what I wanted to say, but I could not get the words out. I had vision problems. I could see, but it was as if pieces of a puzzle were missing."
Doctors ruled out a stroke, thankfully, and they treated her for a migraine. Unfortunately, Amy continued to have migraines two to three times a month and had to take family medical leave to sort through her health situation.
Amy determined that leaving her job was necessary. That's when she began working in the medical field, using her knowledge of filing auto insurance claims to file medical insurance claims. As her stress level decreased, so did the number of headaches.
Joining clinical trials
When Amy's daily headache medication caused her to lose her appetite and, subsequently, too much weight, she went off the medication. As a patient with Sentara Neurology Specialists, Amy hoped for a new solution because her migraines kicked in more frequently without daily medication.
Neurological clinical trial coordinator Lisa Richardson approached Amy to see if she'd be interested in participating in clinical trials to test experimental migraine drugs. Amy was running out of options for migraine relief and agreed.
Her first trial ran from June 2019 to August 2020. The medication was aimed at migraine prevention. When participants sign up for clinical trials, they don't know whether they are on a placebo or the drug being tested. Patients sign legal consent forms before they start the trial and can leave any time.
"I experienced a reduction in headaches," Amy says. "I would still get them from time to time, but when I did get them, the symptoms were less in severity and duration."
The drug company provided her with a cell phone to keep daily records of any symptoms, how long they lasted, whether she got a headache and the likely triggers. In addition, the clinical trials office monitored her during the trial, with physical exams and lab work.
Amy also joined a second trial that tested medication meant to quash headaches when people sense they are about to start. That trial also produced positive results for Amy.
Now that the trials are over, Amy takes medication if she anticipates a headache but not a daily preventative drug. She hopes the FDA will soon approve the medications that worked so well for her.
In the meantime, she's enjoying her 18 horses and 5-year-old granddaughter, AJ, who's just starting to ride them.
"It was so nice to have a day with my family and horses and not have to worry about things," Amy explains. "I'm glad I participated in the trial for myself and others. It definitely made a difference in my life."
Learn more about available clinical trials through the Sentara Health Research Center.
---