Parkinson's clinical trial: 'Clear and profound' improvement in retired military pilot's health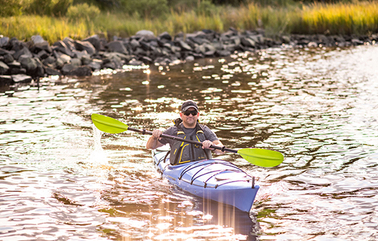 Throughout his 22-year military career, James Shull's launched on a journey distinctly his own - from enlisted to officer, Army to Coast Guard, tanks to helicopters.
When his neurologist diagnosed him with early-onset Parkinson's Disease in 2020 at the age of 48 he used this same grit and charted a course to battle the progressive condition that causes tremors, challenges with walking and coordination, muscle rigidity and changes in speech.
"If you look at my career, I have not been afraid to try new adventures," says James, a retired Coast Guard pilot who lives in Norfolk. "The theme of my life is, 'Not all who wander are lost,'" James explains. "I've tried so many different things and they have all been rewarding. So that's how I've approached this disease."
Hand tremors worsen over time
James first noticed slight hand tremors in 2014 while eating. Trying to keep peas on a fork, for example, was tricky, but the tremors weren't affecting his everyday or professional life, so he let it go.
However, he visited several doctors in a couple of states over the next few years as the tremors continued to see if something serious was going on, especially when he realized using a mouse was easier with his non-dominant left hand than right hand.
Each doctor diagnosed James' condition as essential tremors and wasn't concerned. By 2019, James was preparing to retire from the Coast Guard and fly commercially. An aeromedical doctor signed off on a clean bill of health, saying he was fit to fly for the airlines. Then a regional airline hired James, who also worked as a civilian flight instructor.
Soon, James became more alarmed about his symptoms. His right arm wasn't swinging as much as it normally would. Paper shook when he held it. His handwriting wasn't as clear.
"I could still fly a plane, but I knew something was wrong," says James, who resigned from his airline position just a few months after starting it to get to the bottom of his health concerns. "I didn't know I had the disease yet, but I knew something was wrong."
Taking charge after devastating diagnosis
James and his wife of 25 years, Lisa, met with Sentara neurologist and fellowship trained movement disorder specialist Dr. Karen Thomas in August 2020. Dr. Thomas evaluated him and diagnosed him with early-onset Parkinson's disease. A nuclear medicine study called a DaTscan, which measures dopamine levels controlling movement, confirmed the diagnosis.
Astonished about the diagnosis at the age of 48 James and Lisa, who have two grown sons, began to scour the web to find clinical trials to join. He was willing to try anything that could make a difference in the disease progression.
James enrolled in a trial through Sentara of a new investigational drug in October 2020. Since starting the investigational drug, James has noticed improvements in his tremors and great improvement in dexterity.
Exercise critical in improvement
Dr. Thomas also recommends a rigorous exercise program to keep Parkinson's symptoms at bay and slow the progression of the disease. She also prescribed occupational therapy.
As he researched more about Parkinson's, James received much motivation from the story of Jimmy Choi, who was diagnosed with Parkinson's at age 27. Choi declined due to inactivity and eventually hit rock bottom and decided to train for NBC "American Ninja Warrior." He has also run 100 half marathons and 15 full marathons, among other intense races.
In the beginning, James exercised twice a day doing activities like P90X2, which also helps with balance; a 5-mile walk or gym workout. He also enjoys kayaking on the Lafayette River by his home. But, when he began his job as a program analyst at Langley Field, James had to cut the workouts to once a day.
The combination of the investigational medication, exercise, physical and occupational therapy had a "clear, profound effect" on improving his symptoms.
"When I took a typing test at occupational therapy at first, I struggled and had to press one key at a time. I had to think about every button," James says. "But now I can type as fast as I want. I can write my signature and scribble without thinking about it. My handwriting is normal."
Moving to the beat of his own drum
James continues to develop new therapy methods. He's picked up a new skill that blends his appreciation for music with cognitive and physical movement – drums.
"It came to me in the middle of the night," James explains. "Drumming has a dexterity component, music component, memory component, constant repetitive physical manipulation."
He started with a single basic drum pad, but now he's bought a drum set and is thrilled with his new pastime. James takes lessons once a week and practices daily.
"It's always in the back of my mind that I have Parkinson's," James says. "But it is not ruling my life."
Learn more about available clinical trials through the Sentara Health Research Center.
---