Preparation Routine Keys To Weight Loss Surgery Success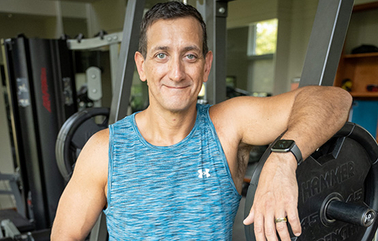 Glenn Taylor's alarm goes off at 3 a.m. every weekday at his home in Norfolk.
From there, he heads to the gym for a two-hour workout, gets ready for work in the locker room and arrives by 6:30 a.m. for his job at the Norfolk Naval Shipyard. He doesn't worry about packing a lunch because he's already shopped for healthy meals that he keeps in the refrigerator at work.
Glenn's dedication and relentless attention to detail have led to his hard-earned weight loss of more than 150 pounds following weight loss surgery through the Sentara Comprehensive Weight Loss Solutions program.
"I knew if I didn't bring this level of intensity, I was going to fail," says Glenn, an assistant project superintendent at the shipyard. "I wanted to remove all my excuses, and the only way to do that is through preparation."
Life-changing, saving decision
A couple of years ago, Glenn's life was much different. At his heaviest weight - 360 pounds - he was on 12 prescription medications for high blood pressure, prediabetes, and knee and joint pain. He also smoked a pack of cigarettes a day.
Glenn explains that he started to put on weight during his wife's pregnancies and tried various diets and exercise. But time and time again, he would lose weight and then gain it back plus more.
While driving to work, he heard a radio commercial inviting listeners to attend a weight loss surgery seminar. After a few days of hearing the same spot and struggling to get up the flights of stairs to work, his thoughts kept wandering back to the commercial. So, Glenn jotted the number down at a stoplight and made the call.
His mother died of complications due to diabetes and high blood pressure at a young age. Glenn, who has teenage children with his wife, Angela, desired a new, healthy lifestyle.
Signing up for the seminar motivated Glenn to go to the gym. Within two weeks, he had lost 8 pounds. After the seminar, he was ready to commit to the surgery.
Though apprehensive about his first appointment, he quickly felt at ease when he met bariatric surgeon Anjali Gresens, MD, FACS, and her team.
"When you're morbidly obese, you're not confident about any promises or plans," Glenn explains. "After I met the team, I had complete faith that if I followed the program, I'd lose weight."
After speaking with Dr. Gresens, Glenn chose gastric sleeve bariatric surgery. The procedure involves laparoscopically removing about 80 percent of the stomach. The remaining stomach takes the shape of a tube or "sleeve" about the size of a banana. This procedure limits how much food people, makes them feel full sooner and eliminates part of the stomach that makes a hormone that boosts appetite.
Preparing for surgery
Glenn met with a registered dietitian to learn how and what to eat before and after surgery. He nearly memorized his patient handbook, which was full of critical information about bariatric surgery and life afterward.
"I learned through the process that the program isn't just about guidelines," Glenn says. "It's a reprogramming of your eating and lifestyle habits. You are building muscle memory. The only way to be successful is to follow the program, so it becomes second nature."
After surgery, bariatric patients need to focus on high-protein foods and avoid food high in fat and sugar. In addition, they must eat and drink slowly, chew thoroughly and keep meals small so as not to overwhelm their smaller stomach.
Glenn also met with a counselor, required by the program and insurance, to be sure he was ready for the lifelong commitment. During the process, he learned more about why he ate the way he did and gained some coping mechanisms. In addition, he also quit smoking and decided not to drink for two years after his surgery.
Another critical piece of Glenn's surgery preparation was getting his family's support. Patients must realize that just because their diet and habits change, that doesn't mean the family will alter their meals. So, they will need to be comfortable being on a different schedule and meal plan, Glenn advises. He also notes that friendships may change because your life may veer in a different direction than some of your friends.
Surgery and beyond
Dr. Gresens performed Glenn's surgery at Sentara Norfolk General Hospital, where he stayed for one night after the surgery. His surgery and went well, and Glenn also strategically planned for his recovery at home.
For example, he stocked his garage refrigerator with the food and drinks he would need after surgery - clear liquids at first, including protein water and protein-enriched broth; protein shakes and other soft foods for later. He even kept an Excel spreadsheet and set the alarm on his phone to keep track of liquids, so he stayed hydrated. At first, patients can only tolerate small amounts of liquid at a time because of their smaller, more sensitive stomach.
Because of his success, Glenn is off all his medications. While it's rewarding to see numbers on the scale reverse, Glenn quickly points out that your long-term goal should be to become healthy and fit regardless of the numbers.
"People tie their success to weight loss rather than how they feel," he concludes. "This isn't just a physical challenge. This is a mental challenge, and you have to approach it as one of the hardest mental things you've had to go through. If you can understand that, you can be successful."
---