Wearable Technology Aids in Parkinson's Disease Research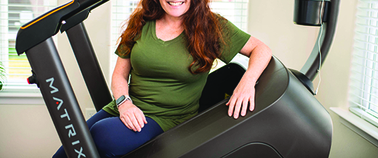 Feeling like pebbles were stuck in her shoes, Rebeca Giacoman pulled into a rest stop while driving to Virginia from a vacation in Tennessee. She took her dog out for a walk and shook out her shoe, finding no pebbles, despite still feeling the sensation.
A short while later, two of her toes went numb. Rebeca's primary care provider prescribed physical therapy, assuming she had a pinched nerve. When symptoms didn't improve, and Rebeca began having slight spasms in her right calf, she saw a neurologist.
After a brief appointment, the neurologist diagnosed Rebeca with Parkinson's disease and prescribed brain-altering medication, recalls Rebeca, 59, of Suffolk, who retired from the Navy in 2006 and has two grown daughters.
"This came out of nowhere," says Rebeca. "I couldn't understand how she could make the diagnosis so quickly just based on a spasm and numb toes."
A second neurologist confirmed the diagnosis, but Rebeca, still in disbelief, paid out of pocket for a DaTscan. A DaTscan is a nuclear medicine scan that can confirm the diagnosis of Parkinson's disease through the presence of dopamine, a neurotransmitter. The scan confirmed she had the beginning stage of Parkinson's.
Identical Twin Sifts Through Studies
Both Rebeca and her identical twin, Jody Giacoman, who also served in the Navy, were stunned at the diagnosis since Jody hasn't experienced similar symptoms and the disease didn't run in their family.
Jody poured through medical studies online to find a root cause for her twin's Parkinson's disease. She uncovered studies linking early-onset Parkinson's disease to a specific type of jet fuel, which Rebeca was exposed to while serving as an aircraft electronic technician in the Navy. Rebeca eventually was commissioned as a naval officer and worked in staff jobs away from the flight line.
Meanwhile, Rebeca's condition declined drastically after taking medication that was supposed to help with her symptoms.
"I could not understand why I went from a numb toe and sporadic leg spasm to suddenly horrible symptoms that mimic advanced-stage Parkinson's," explains Rebeca, a budget analyst for the U.S. Fish and Wildlife Service. "My gait was off. I couldn't walk well. I had a stiff back and pain that ran down my arm. I felt anxious and experienced jerking movements at night. I felt like I was falling off a building."
Finding Answers at Sentara
Frustrated and lacking feedback from her neurologist, Rebeca went off her medication. Her oldest daughter had heard glowing reports about Dr. Karen Thomas, a neurologist and fellowship trained movement disorder specialist with Sentara Neurology Specialists. They saw Dr. Thomas for the first time in November 2020, two years after her first diagnosis of Parkinson's disease.
Rebeca and her daughter, Mercedes Braun, immediately felt at ease with Dr. Thomas. Rebeca appreciated how thorough Dr. Thomas was in her exam and in looking at previous tests. Although Dr. Thomas confirmed the diagnosis of Parkinson's disease, agreeing it most likely was linked to her exposure to jet fuel chemicals, her bedside manner made all the difference to Rebeca and her daughter.
"She was very kind about delivering the message," Rebeca says. "She explained the disease and gave me hope that I could prosper. She gave me a treatment plan with the right approach and the strength to face this challenge head-on with all their resources."
New Treatment Plan, Research Study
For starters, Dr. Thomas told Rebeca that it was too early in her disease progression to take medication. So instead, she prescribed a more holistic approach with occupational and physical therapy, regular and intensive exercise to increase blood flow to the brain and a diet focusing on brain health that includes supplements.
Eager to help advance research and knowledge of Parkinson's disease, Rebeca's interest was piqued when Dr. Thomas told her about various research and clinical trial opportunities at Sentara.
Rebeca wanted to avoid any medication studies, so when Dr. Thomas told her about research that monitors symptoms through an Apple Watch and iPhone using digital biomarkers, Rebeca was intrigued.
Rebeca enrolled in a nationwide digital biomarkers study in December 2020. The Apple Watch has many sensors to detect tremors, gait, balance and other movements. The study, which takes place over 14 months, compares sensor-based symptoms gathered by the watch and phone with traditional doctors' assessments to see how well they can track symptom progression in early, untreated Parkinson's disease.
As part of the study, Rebeca responds on her phone once a month to questions about symptoms. She completes various tasks on her phone screen, including memorizing, matching pictures, tracing objects and vocalizing to test her pitch and the steadiness of her voice. Every three months, Rebeca sees Dr. Thomas to evaluate her progress.
"Dr. Thomas is a godsend," Rebeca exclaims. "I don't have the words to express how truly grateful I am for her expertise, her manner of treating patients, her team and the Sentara organization. They are all a part of it."
Rebeca is also grateful for the opportunity to advance Parkinson's research through her study.
"I want to do whatever I can to help the rest of the world with this disease," Rebeca explains. "I've always wanted to have a cause since I left the Navy and my daughters grew up, and I decided this was my cause."
Learn more about available clinical trials through the Sentara Health Research Center.
---