Awareness about Personal Pronouns Creates Inclusive Experiences at Sentara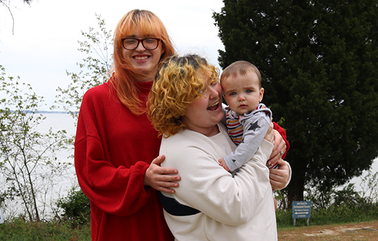 April is Celebrate Diversity Month. In recognition of the month and Sentara's commitments to always treating you with dignity, respect and compassion, Sentara's Diversity and Inclusion program is placing a spotlight on the importance of understanding and using others' correct personal pronouns.
Personal pronouns, also known as gender pronouns, are the pronouns an individual feels best reflect their identity.
They are the words a person would like others to use when talking about them. Common personal pronouns are she/her, he/him and they/them.
"We cannot know or assume a person's gender just by looking at them or seeing their name," said Dana Beckton, Sentara's Chief Diversity Officer. "Inclusivity cannot exist without making an effort to understand, appreciate and affirm a person's identity."
Personal pronouns and the patient experience
Understanding and correctly using personal pronouns creates positive, inclusive healthcare experiences for our patients. That was the case for one couple who delivered their first child in August 2020 at Sentara CarePlex Hospital (SCH) in Hampton, Va.
Soren Celyn did not use his current pronouns (he/him or they/them) at the time, but when he found out he was pregnant, he was concerned about any potential labor and delivery teams not using the correct pronouns for his fiancée, Chloe Leach.
"Unfortunately, we weren't born in our right bodies," he explained.
Soren made sure his labor and delivery team at SCH knew about Chloe from the start of what turned into a four-day stay in the hospital. Jackie Jones, Clinical Manager of the Family Maternity Center at SCH said that once Soren and Chloe checked into the hospital, the team used staff huddles to remind everyone of the importance of using the [couple's] correct pronouns. The team's efforts did not go unnoticed.
"Whenever I would leave the room, which was not often because of COVID-19, no one misgendered me," Chloe said. "The person in the front knew, the nurses knew. Everyone who I interacted with knew already and did respect my pronouns."
That experience was a first for Chloe, who "is not assertive like [Soren]" and had not shared her identity with medical professionals in the past. She said her experience at SCH gave her confidence in her identity and in sharing it with her own doctors.
"I know it's okay for my doctor to call me who I am and I can say, 'Hey, this is who I am,' because Sentara showed me that it's okay," she said. "[Sentara care teams] really have a respect for the community and the people around them."
Soren said that seeing and hearing his care team respect Chloe's identity gave him more confidence in exploring and expressing his own identity, too.
"[Back then] I didn't know my own identity completely yet. I was questioning myself while I was pregnant," he said. "But to finally understand that there are people in this world who are going to love you for who you are, accept you and take care of you without a question, it's just amazing."
The day their son, Lucian, was born, Chloe made a public post on Twitter about her and Soren's experience.
"My fiancé and I are in the hospital so they can have our baby and the people working at Sentara Healthcare have been so supportive of our pronouns," the Tweet read. "It's a big culture shock. I'm so thankful for their support."
Soren agreed. "The staff there, they just go above and beyond and they're just amazing."
Continued support for colleagues and the community
As a part of Sentara's focus on personal pronouns this month, Sentara employees are encouraged to add their own personal pronouns to their email signatures. Sentara hospitals' diversity councils are also ordering pins with personal pronouns on them and distributing them to interested employees.
Beckton acknowledged that some people might feel shy or awkward about asking about someone's pronouns or sharing their own, but said email signatures and pins are easy ways to begin the conversation. She also added that when people whose gender identities match what they were assigned at birth participate this way, they help normalize asking about, sharing and using correct personal pronouns for everyone.
"Seeing pronouns in a signature or on a pin can signal to others that it's safe to share their authentic selves, whether they are our colleagues or the people in our care," she said. "It can also help us understand who we are communicating with so we can foster goodwill from our very first interaction," she said.
Sentara is proud of the work we are doing to support patients and promote inclusion. Last year, all twelve Sentara hospitals earned 2020 LGBTQ Healthcare Equality Leader status from the Human Rights Campaign's Healthcare Equality Index (HEI). Prior to Sentara's designation, only four facilities in Virginia held Leader status, which is HEI's highest designation and can only be attained by earning a top score of 100 on the HEI survey.
Sentara earned Leader designation in part due to system-wide implementation of LGBTQ-inclusive policies and procedures, and an internal toolkit to promote transgender inclusion in the workplace. Sentara is also proud to partner with local LGBTQ+ organizations like Hampton Roads Pride in Norfolk, Va. and Shenandoah Valley Pride in Harrisonburg, Va. to promote wellness and wellbeing for our LGBTQ+ community members.
By: Lauren Patton
---