COVID19 Vaccination Event in Harrisonburg
Sentara RMH and Local Health Department Partnering to Vaccinate Phase 1b Patients and Community Members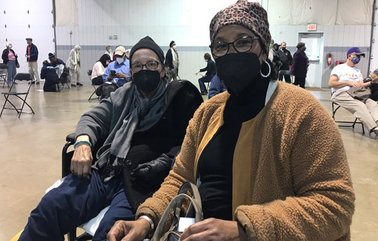 Sentara RMH Medical Center is partnering with the Central Shenandoah Health District (CSHD) to provide a COVID-19 vaccination event Saturday, Feb. 6, 2021 from 2–6 p.m. The clinic is by appointment only. Eligible participants have been contacted directly by CSHD to schedule an appointment. The clinic cannot accommodate walk-ins or calls to schedule an appointment.
1,000 doses of the COVID-19 vaccine are being administered to eligible Phase 1b patients and community members in the Harrisonburg/Rockingham area at the event. Sentara RMH is providing some of its staff members to help support the vaccination event. Medical interpreters are available onsite to assist those who need interpretation services.
"As healthcare providers, we recognize the importance of getting vaccine to the community as quickly and efficiently as we can," said Doug Moyer, president of Sentara RMH. "We are working as quickly as we can, given the limited amounts of vaccine available, and we thank community members for their patience."
Vaccine recipients who have been invited to attend the clinic today include those on CSHD's waitlist, as well as members of local minority populations.
"As a community hospital, Sentara RMH is proud to partner with the Central Shenandoah Health District in distributing vaccine to eligible members of our community, including those community members who have been traditionally underserved medically," said Iris Lundy, director of Health Equity for Sentara Healthcare. "We know there is greater demand for the vaccine among community members than we are able to accommodate, but we look forward to further vaccination events as vaccine becomes available."
The COVID-19 vaccine clinic is being held at the Rockingham County Fairground. Due to patient safety and privacy, media and the public are asked not to attend.
By: Neil Mowbray
---