Sentara Brock Cancer Center welcomes Virginia Oncology Associates to new location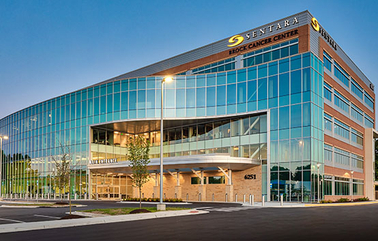 The
Sentara Brock Cancer Center
is the new home to
Virginia Oncology Associates
' (VOA) expert care teams formerly located at the Lake Wright Medical Office. The addition of Virginia Oncology Associates in the Sentara Brock Cancer Center builds upon our commitment to transform cancer care in Hampton Roads. By bringing together expert care teams, community organizations and holistic cancer treatment services within one location, patients will benefit by receiving quicker care all under one roof.
Virginia Oncology Associates is now located on the second floor of The Sentara Brock Cancer center. VOA patients have the added convenience of seeing their oncologist and receiving specialized imaging and lab services, physical therapy, and other supportive services all in the same visit. Sentara and VOA care teams will also utilize shared conference rooms at the cancer center to enhance collaboration on patient cases, research and clinical trials. This partnership will open new doors in cancer treatment and patient care.
"Working with Virginia Oncology Associates in the Sentara Brock Cancer Center gives us more time together to collaborate, which will really enhance our patient's care and experience," said Dr. John Sayles, Sentara Colorectal Surgeon and Sentara Brock Cancer Center Steering Committee Physician. "Together we will strive to introduce new treatment therapies to the community, deliver quicker access to care, and create a seamless, personalized experience for every patient."
"The physicians and staff at Virginia Oncology Associates are excited about our move into the Sentara Brock Cancer Center," said Dr. Scott Cross, VOA President and medical oncologist/hematologist. "We see this as an opportunity to improve on the multi-disciplinary care we provide to the community, increase clinical trial opportunities through our robust Phase 1 program, and numerous other novel treatment options such as CAR-T therapy."
The Sentara Brock Cancer Center brings together the top cancer caregivers in the region, led by an unparalleled Physician Steering Committee comprised of clinical leaders from Sentara, VOA and EVMS. The Physician Steering Committee develops and guides a shared vision to provide multidisciplinary care, expanded community access to clinical trials, coordinated survivorship programs to help patients transition to life after diagnosis, and overall advanced cancer care close to home. By partnering with like-minded clinical teams and community organizations, cancer patients, survivors and their families will benefit from increased access to cancer resources and services, expanded screening, awareness and prevention efforts, treatment options, and survivorship care.
The Sentara Brock Cancer Center is a $93.5 million, 253,000 square-foot facility and regional hub for the Sentara Cancer Network. Sentara broke ground on the center in March 2018 and began treating patients on June 1, 2020.
Community members are invited to visit https://sentarabrockcancercenter.com/giving if interested in having a personalized brick in the Sentara Brock Cancer Center Healing Garden. Healing Garden bricks celebrate survivors, remember loved ones, and recognize caregivers or and doctors. Personal messages will make a permanent imprint on the Sentara Brock Cancer Center and the future care of patients in our community.
By: Kelly Kennedy
---