Sentara Halifax Regional Hospital Implements Sentara eCare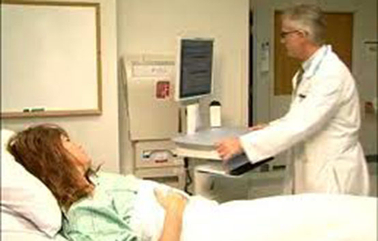 On February 2, 2020, Sentara Halifax Regional Hospital and its associated medical practices will implement a new digital platform for healthcare delivery that includes an integrated electronic medical record, patient portal, mobile phone app, and registration and billing features. This system, referred to as Sentara eCare, is powered by Epic.
"Implementing Sentara eCare represents a tremendous investment in our healthcare system and community," said Brian Zwoyer, DNP, RN, NE-BC, interim president of Sentara Halifax Regional Hospital. "This will effectively tie all of our medical practices together with our hospital, and integrate Sentara Halifax with our sister hospitals across Virginia and northeastern North Carolina, further unifying the Sentara system."
Sentara eCare
The transition to Sentara eCare will make communicating and accessing needed patient information between practices more streamlined, enabling faster turnaround times which translates to more time spent with patients.
Streamlining care across Sentara Halifax and becoming more connected to Sentara Healthcare as a whole will allow better access to patient records across all clinical areas. This creates a seamless experience when patients seek care at Sentara primary care practices, Sentara specialty care practices, at Sentara Halifax Regional Hospital or any Sentara location in Virginia and northeastern North Carolina.
As a part of the transition to Sentara eCare, patients may also notice their hospital or practice bill has a new look and feel that is redesigned and easier to understand. An insert will be included in your bill to explain these changes in detail.
The Sentara App
In addition to the benefits of a fully integrated electronic medical record in the hospital and practices, patients will have their medical record at their fingertips through the Sentara App on their smartphone. The Sentara App allows patients to access test results, message their providers directly, and even schedule a visit.
"One of the most exciting parts of Sentara eCare is the availability of the Sentara App to our patients," said Zwoyer. "Being able to pick up your smartphone and view your lab results or message your provider directly is a new level of accessibility for our patients that we haven't been able to offer in the past."
Digital transformation is a primary focus for Sentara Healthcare, with a goal of creating a new digital experience for patients that provides value and drives engagement with their personal healthcare. The Sentara mobile app is the foundation for this transformation, and will ultimately improve the patient experience across every touchpoint, allowing patients to easily manage their healthcare needs anytime, anywhere, with a user-friendly design.
For patients who do not wish to access their information via the Sentara App, or who do not own a smartphone, patient records will be available by using a desktop computer to log into the patient portal on Sentara.com Patients who previously used RelayHealth to access their records will still have the option to view any existing record posted to RelayHealth prior to February 2. All records produced after February 2 will be housed in the Sentara Patient Portal or Sentara App.
Healthcare for the Future
As healthcare and technology become more integrated, Sentara Halifax Regional Hospital is excited to provide enhanced access to healthcare services to the community.
"The introduction of Sentara eCare is a milestone for our organization, but more importantly it will enhance our patients' ability to be more connected than ever to their health care" said Zwoyer.
From online appointment requests to virtual visits with a healthcare provider, the transition to Sentara eCare is one that will provide quality, streamlined care, now and into the future.
To download the Sentara App, visit the App Store® or Google Play™ on your mobile device.
By: Faith O'Neil
---